We offer a wide range of wine and alcohol gift baskets. Alternatively, you can design a custom one to suit your unique preferences. We deliver throughout the GTA.
Celebrate all of your loved ones' special occasions, such as their birthdays, anniversaries, graduations, and other milestones, with their favorite drink. To get the celebration started, pick from our premium selection of wine, beer, and champagne. Send a Gift Basket to anyone in Stratford using fast shipping options or the same day delivery option.
SPECIALTY GIFT BASKETS
Our specialty collections include sweets, chocolate-dipped strawberries, coffee gift baskets, sweets, and more. Find the perfect gift here at Peter & Pauls!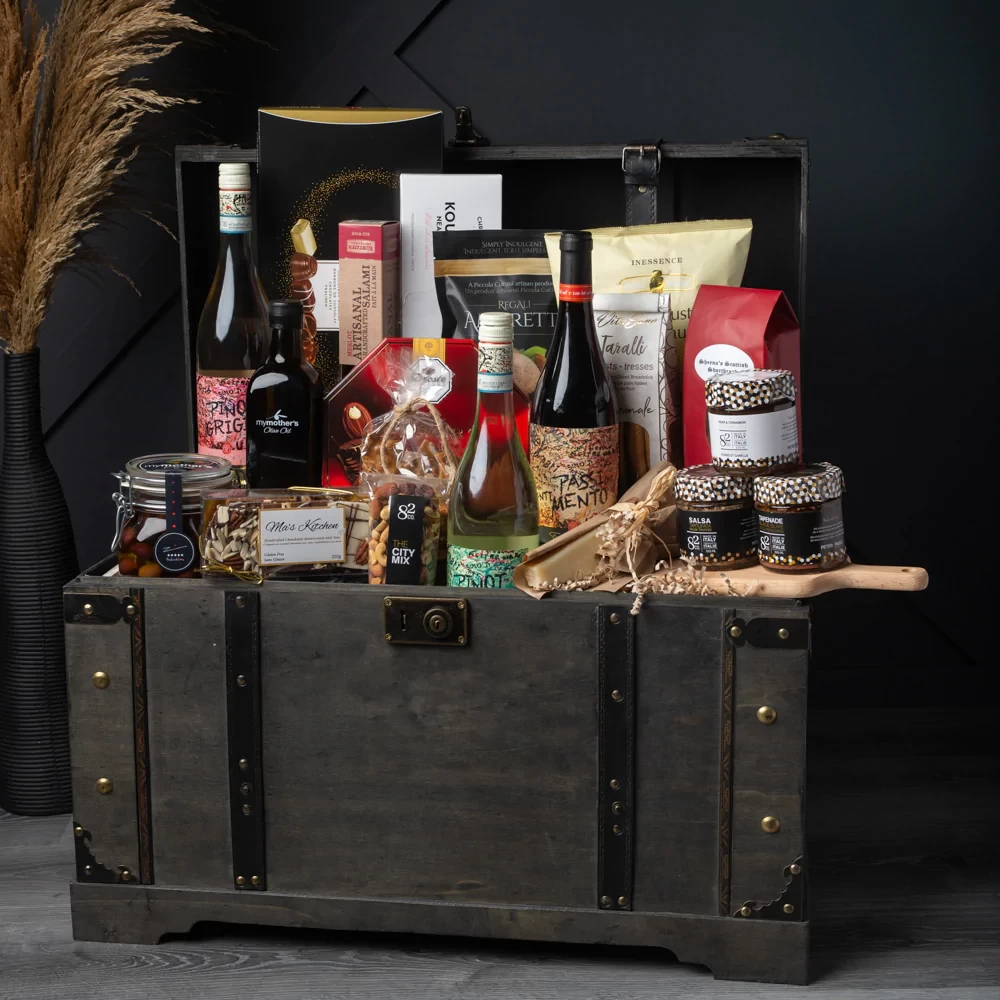 Wine & Alcohol Gift Baskets

Our Gift Baskets can be customized and upgraded with gourmet foods, sweets, chocolate truffles, cheeses, cured meats, and so many other options. We offer a wide range of affordable liquor delivery services so you can always find something. Gifting just the alcohol bottle is no longer enough. Make your gift stand out by including extras like chocolates, or alcohol-related accessories. Don't forget to add a customized message for your loved ones.
Find the perfect Alcohol Gift for your special occasion!
If you're looking for Alcohol gift ideas, look no further. Whether it is Valentine's Day, a housewarming party or your boss's party, our premium gift baskets will make anybody's special day memorable. Our unique collection consists of domestic, imported and specialty blends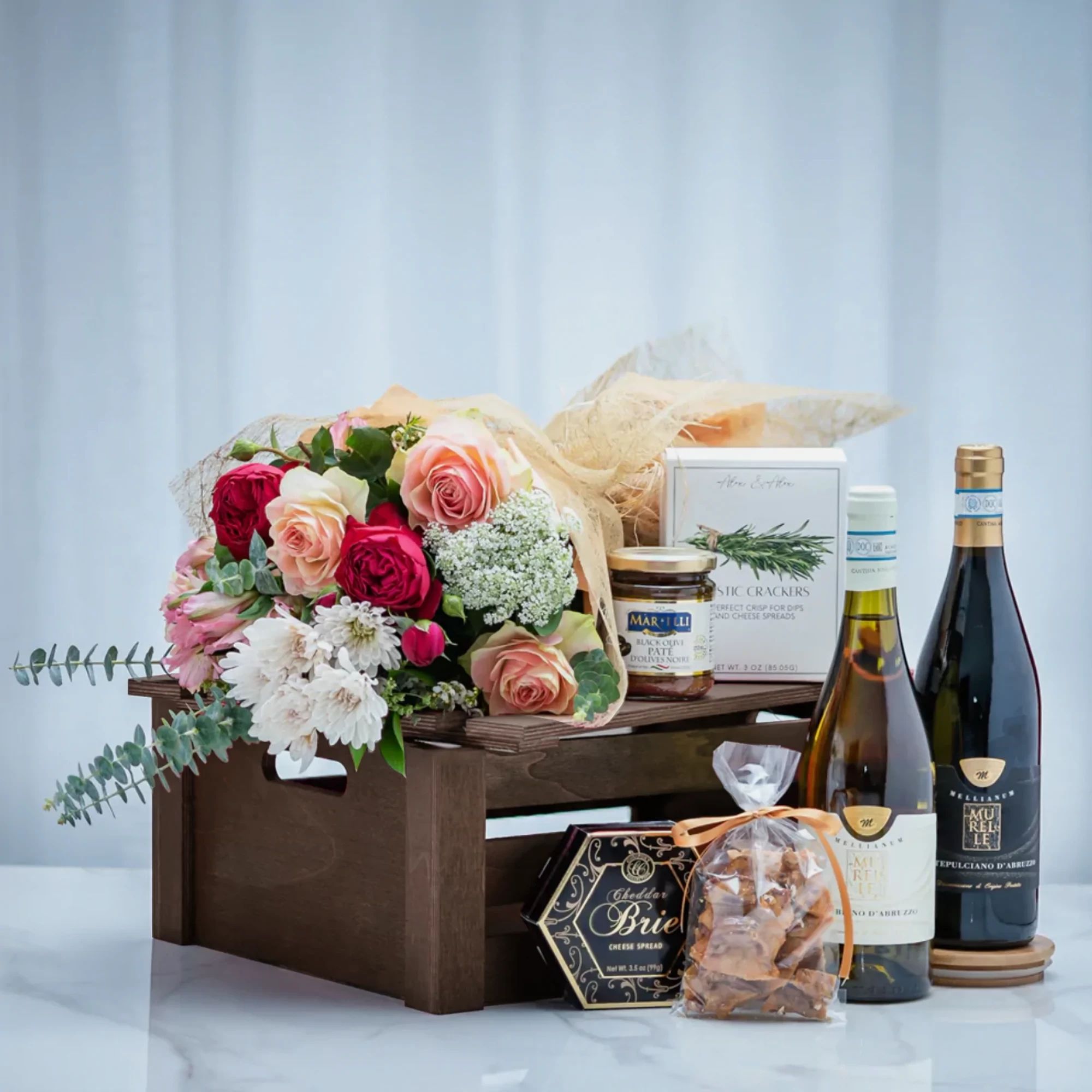 Thank You Gift Baskets
Show someone you love how grateful you are with a thank you gift basket from Peter & Pauls. Our gifts feature gourmet foods, wine, chocolates, and other items for the perfect gifting experience.
Get Well Gift Baskets
Show your support with a get well gift basket for someone dealing with an illness. Our gift baskets are sure to cheer them up! Browse our gift baskets delivered to Stratford, Ontario!
Housewarming Gift Baskets
Bring a housewarming gift basket from Peter & Pauls to your recipient's housewarming party and celebrate with flair and delight, not to mention delicious gourmet foods, high-quality wine, and other premium items!
GIFT BASKET SUGGESTIONS FOR SPECIAL OCCASIONS - DELIVERED IN STRATFORD

Alcohol & Wine Gift Baskets for Mothers in Stratford:
Although Peter & Paul's offers a few booze gift baskets for moms, we think that Bubble and Butterflies are the best. This lovely basket is the ideal booze present to show mum how much you care. This delightful wine gift basket is the perfect liquor gift to express how much mom truly means to you.
Alcohol & Wine Gift Baskets for Fathers in Stratford:
Looking for a liquor gift suggestion for your dad? Get him our Cheers to Beers gift basket. It includes Canadian Craft Beer and everything for a lovely evening at home.
Alcohol & Wine Gift Baskets for Coworkers in Stratford:
Peter & Paul's offers many liquor baskets for coworkers and colleagues who enjoy a drink or two after work.
Alcohol & Wine Birthday Gift Basket in Stratford:
Our liquor gift delivery service ensures that the birthday boy or girl receives the drink of their choice on time. Whether it's wine, champagne, or beer, we guarantee it will show up in time for their celebrations.
Alcohol & Wine Wedding Gift Basket in Stratford:
If you're tired of giving a traditional champagne bottle, try one of our Champagne Gift Baskets which are guaranteed to add to the recipient's day.
Father's Day Gift Baskets

This Father's Day, remember to show Dad how much you appreciate him with a Father's Day gift basket from Peter & Pauls! Our Father's Day gift baskets feature various gourmet foods, chocolates, beer, wine, champagne, cheeses, and so much more. Celebrate all the wonderful times you've had together with a Father's Day gift basket.
Celebrate Valentine's Day, a birthday, and a number of other occasions with a wine gift basket from Peter & Pauls.
Liquor Gift Baskets in Stratford
At Peter & Pauls, you will find many stunning liquor gift baskets. Our liquors, paired with delicious gourmet foods and cheeses, will make for a delightful celebration.
Beer Gift Baskets in Stratford
The beer lover you know and love will surely appreciate an expertly crafted beer gift basket from Peter & Pauls! Our beer gift baskets feature craft beers, accompanied by gourmet foods, cheeses, and other items.
CREATE A CUSTOM STRATFORD GIFT BASKET

At Peter & Pauls, you can create your own custom gift basket with our gourmet foods, wines, champagnes, flowers, chocolates, and more. Perfect for showing your love on Mother's Day, Father's Day, Valentine's Day, graduation, and more, our gift baskets are always a great choice. Among our carefully curated gift baskets, you are sure to find the best way to show your loved one how much you appreciate him or her. Our gift baskets feature assorted chocolates, gourmet foods, and flowers, which are collected together to create the perfect impression on your recipient.
STRATFORD SAME DAY DELIVERY
We offer same day delivery on gift basket orders placed before 11AM. Canada delivery.

Wine and Alcohol Gift Baskets - Toronto, Wine and Alcohol Gift Baskets - Vancouver, Wine and Alcohol Gift Baskets - Edmonton, Wine and Alcohol Gift Baskets- Calgary, Wine and Alcohol Gift Baskets - Kitchener, Wine and Alcohol Gift Baskets - Milton, Wine and Alcohol Gift Baskets - Oshawa, Wine and Alcohol Gift Baskets - Winnipeg, Wine and Alcohol Gift Baskets - Montreal, Wine and Alcohol Gift Baskets - Quebec City, Wine and Alcohol Gift Baskets -Hamilton, Wine and Alcohol Gift Baskets - Cornwall, Wine and Alcohol Gift Baskets - Saskatoon, Wine and Alcohol Gift Baskets - Kingston, Wine and Alcohol Gift Baskets - Abbotsford, Wine and Alcohol Gift Baskets - Moncton, Wine and Alcohol Gift Baskets - Victoria, Wine and Alcohol Gift Baskets - Stratford, Wine and Alcohol Gift Baskets - Barrie, Wine and Alcohol Gift Baskets - Windsor