We offer a wide range of executive gifts. Alternatively, you can design a custom one to suit your unique preferences. We deliver throughout the GTA.
We're one of Canada's most well-known Gift Basket suppliers for corporations all over the country because it has catered to the unique demands and requirements of different businesses and organisations. In order for you to express your gratitude to your clients and colleagues, we take the time to construct gift baskets that are professional looking and contain a wide variety of gift products.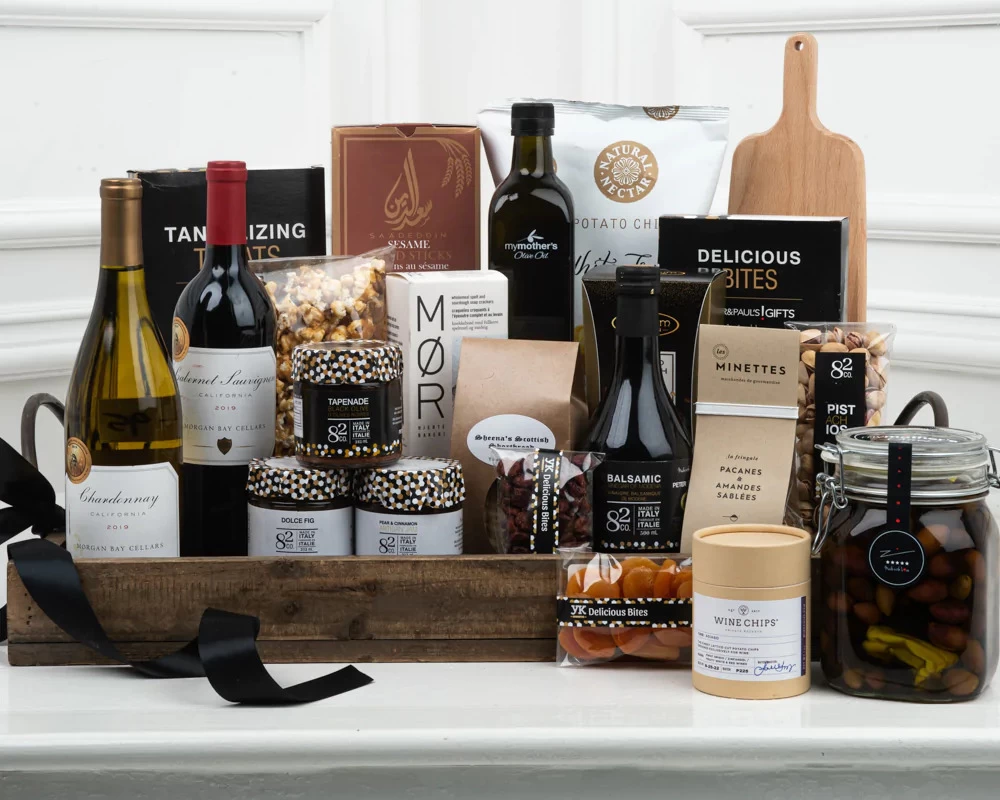 You can be confident that you'll be happy with your choice of our beautifully created baskets that come with a variety of high-quality foods. Additionally, you can rest assured that your clients or boss will like their baskets. Your items will be delivered in a high-quality, professional-looking basket. We also offer a personalised card typed out in a formal font and formatted according to the instructions you supply to us. Then, it will be attached to your basket in a place where the recipient can definitely notice it.


Find the perfect Professional Gift for your special occasion!
Peter & Paul's has earned a reputation for offering the top corporate gift baskets throughout the years. We take the time to put together the ideal corporate gift basket, which is made especially for businesses to deliver to their clientele. Even better, you can choose from a large range of corporate gift basket options in various pricing ranges in a dedicated section of our catalogue and website. Additionally, a lot of our other distinctive baskets may be used in a variety of ways, making them perfect for executive gifts as well.
SPECIALTY GIFT BASKETS
Our specialty collections include sweets, chocolate-dipped strawberries, coffee gift baskets, sweets, and more. Find the perfect gift here at Peter & Pauls!

Thank You Gift Baskets
Show someone you love how grateful you are with a thank you gift basket from Peter & Pauls. Our gifts feature gourmet foods, wine, chocolates, and other items for the perfect gifting experience.
Get Well Gift Baskets
Show your support with a get well gift basket for someone dealing with an illness. Our gift baskets are sure to cheer them up! Browse our gift baskets delivered to Toronto, Ontario!
Housewarming Gift Baskets
Bring a housewarming gift basket from Peter & Pauls to your recipient's housewarming party and celebrate with flair and delight, not to mention delicious gourmet foods, high-quality wine, and other premium items!
GIFT BASKET SUGGESTIONS FOR SPECIAL OCCASIONS - DELIVERED IN TORONTO

CREATE A CUSTOM TORONTO GIFT BASKET

At Peter & Pauls, you can create your very own custom gift basket with our gourmet foods, wines, champagnes, flowers, chocolates, and more. Perfect for showing your love on Mother's Day, Father's Day,Valentine's Day, graduation, and more, our gift baskets are always a great choice. Among our carefully curated gift baskets, you are sure to find the best way to show your loved one how much you appreciate him or her. Our gift baskets feature assorted chocolates,gourmet foods, and flowers, among other items, collected together to create the perfect impression on your recipient.
TORONTO SAME DAY DELIVERY
We offer same day delivery on gift basket orders placed before 11AM. Canada delivery.

Executive Gifts - Toronto, Executive Gifts - Vancouver, Executive Gifts - Edmonton, Executive Gifts - Calgary, Executive Gifts - Kitchener, Executive Gifts - Milton, Executive Gifts - Oshawa, Executive Gifts - Winnipeg, Executive Gifts - Montreal, Executive Gifts - Quebec City, Executive Gifts -Hamilton, Executive Gifts - Cornwall, Executive Gifts - Saskatoon, Executive Gifts - Kingston, Executive Gifts - Abbotsford, Executive Gifts - Moncton, Executive Gifts - Victoria, Executive Gifts - Stratford, Executive Gifts - Barrie, Executive Gifts - Windsor