We offer a wide range of corporate gift baskets. Alternatively, you can design a custom one to suit your unique preferences. We deliver throughout the GTA.
Express your gratitude for a client presentation, an employee's performance, or other professional occasions today with one of our Corporate Gift Baskets. We are one of Canada's most well-known Gift Basket suppliers for corporations all over the country because it can cater to the unique demands and requirements of different businesses and organisations. If you're looking for the perfect present for a coworker, client, or employee, check out our assortments tailored to specific industries! Customise or Upgrade your gift baskets and get them delivered today.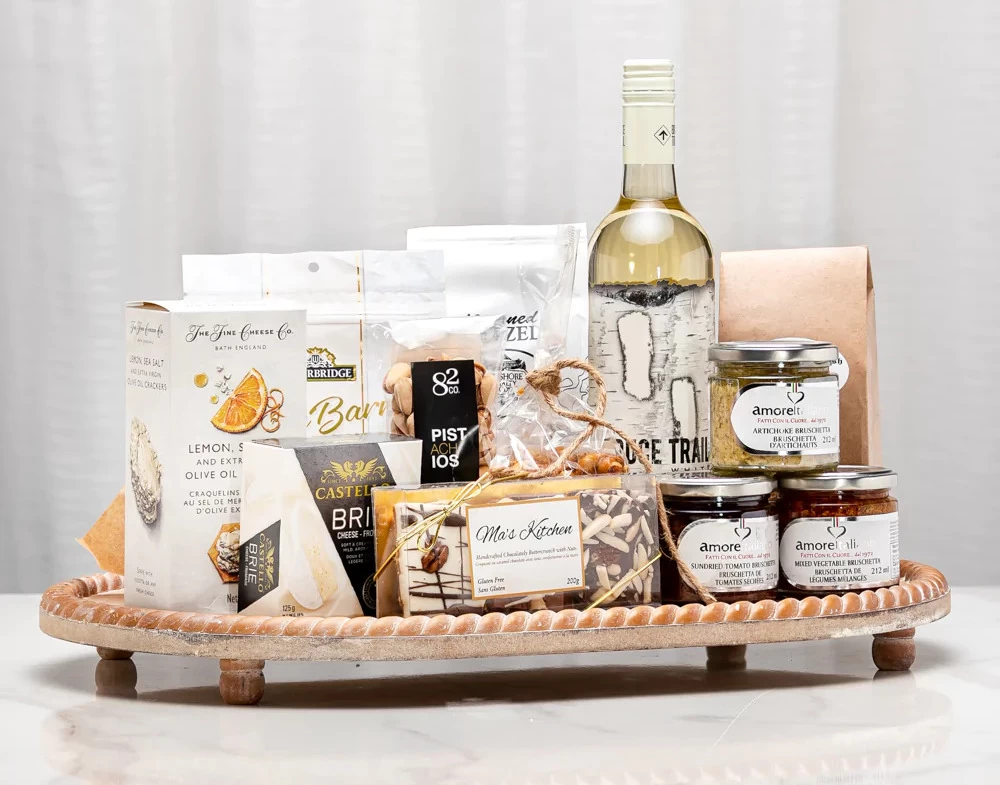 Customised Corporate Gift Basket
Despite the exquisite gourmet delights that are included in our gift baskets, we understand that no celebration is truly complete without champagne, wine, beer or liquor gifts! Create a gift basket with a variety of items, such as fine vintage wines, champagne, beers, and more, to suit the tastes of your clients. To make a gift basket they will treasure, you can also include your favourite spirits along with additional gourmet, floral, spa, and other products.
Find the perfect Corporate Gift for your special occasion!
Be the talk of the breakroom by creating a lasting impression on your important client or by simply conveying your coworkers their importance with one of our beautiful gift baskets.
Whether it's a gift for an important client, staff meeting, boss' party or more, we offer exquisitely prepared baskets with gourmet snacks, fine alcohol and more to wow the other person.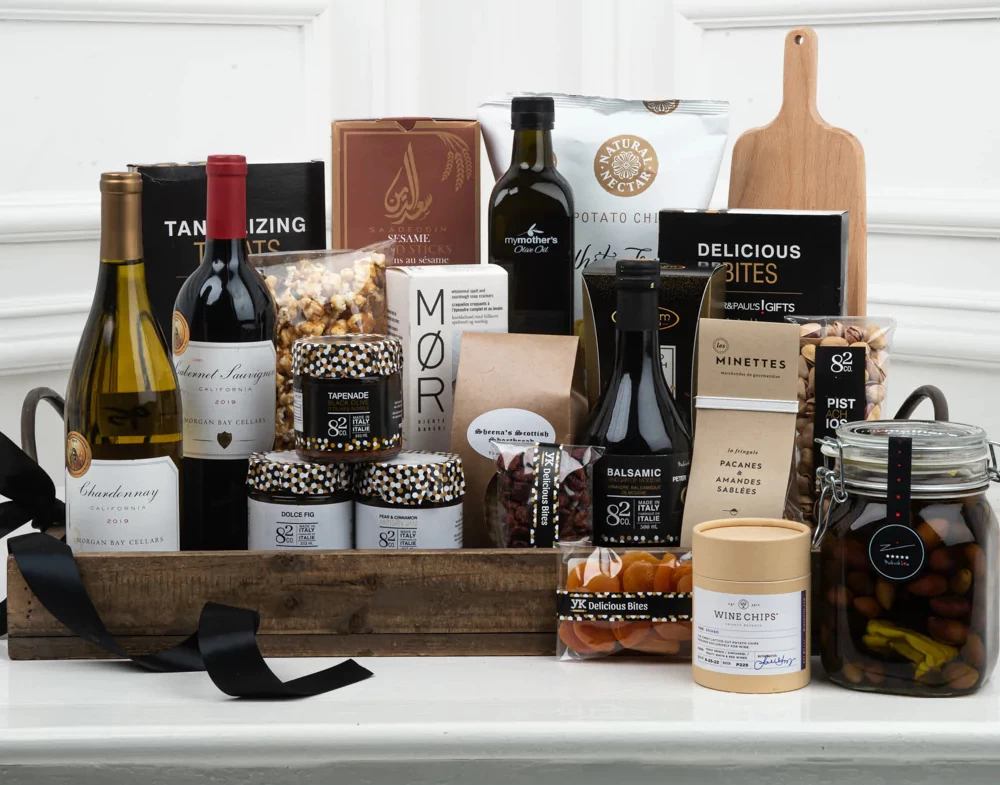 SPECIALTY GIFT BASKETS
Our specialty collections include sweets, chocolate-dipped strawberries, coffee gift baskets, sweets, and more. Find the perfect gift here at Peter & Pauls!

CORPORATE GIFT BASKETS

Free Delivery in USA & Canada*! Same-Day Delivery in Toronto.
Thank You Gift Baskets
Show someone you love how grateful you are with a thank you gift basket from Peter & Pauls. Our gifts feature gourmet foods, wine, chocolates, and other items for the perfect gifting experience.
Get Well Gift Baskets
Show your support with a get well gift basket for someone dealing with an illness. Our gift baskets are sure to cheer them up! Browse our gift baskets delivered to Toronto, Ontario!
Housewarming Gift Baskets
Bring a housewarming gift basket from Peter & Pauls to your recipient's housewarming party and celebrate with flair and delight, not to mention delicious gourmet foods, high-quality wine, and other premium items!
GIFT BASKET SUGGESTIONS FOR SPECIAL OCCASIONS - DELIVERED IN TORONTO

CREATE A CUSTOM TORONTO GIFT BASKET

At Peter & Pauls, you can create your very own custom gift basket with our gourmet foods, wines, champagnes, flowers, chocolates, and more. Perfect for showing your love on Mother's Day, Father's Day,Valentine's Day, graduation, and more, our gift baskets are always a great choice. Among our carefully curated gift baskets, you are sure to find the best way to show your loved one how much you appreciate him or her. Our gift baskets feature assorted chocolates,gourmet foods, and flowers, among other items, collected together to create the perfect impression on your recipient.
TORONTO SAME DAY DELIVERY
We offer same day delivery on gift basket orders placed before 11AM. Canada delivery.

Corporate Gift Baskets - Toronto, Corporate Gift Baskets - Vancouver, Corporate Gift Baskets - Edmonton, Corporate Gift Baskets - Calgary, Corporate Gift Baskets - Kitchener, Corporate Gift Baskets - Milton, Corporate Gift Baskets - Oshawa, Corporate Gift Baskets - Winnipeg, Corporate Gift Baskets - Montreal, Corporate Gift Baskets - Quebec City, Corporate Gift Baskets -Hamilton, Corporate Gift Baskets - Cornwall, Corporate Gift Baskets - Saskatoon, Corporate Gift Baskets - Kingston, Corporate Gift Baskets - Abbotsford, Corporate Gift Baskets - Moncton, Corporate Gift Baskets - Victoria, Corporate Gift Baskets - Stratford, Corporate Gift Baskets - Barrie, Corporate Gift Baskets - Windsor