Thoughtful Gift Ideas for New Grads: Celebrating Milestones and Embracing The Future
Graduating is a significant milestone in one's life, marking the end of a chapter and the beginning of a new journey. Whether they're stepping into the professional world or furthering their education, new grads deserve to be celebrated and encouraged. One meaningful way to show your support and appreciation is by gifting them something special. In this blog post, we'll explore a selection of thoughtful gift ideas designed to inspire, comfort, and commemorate this momentous occasion.
Cozy Night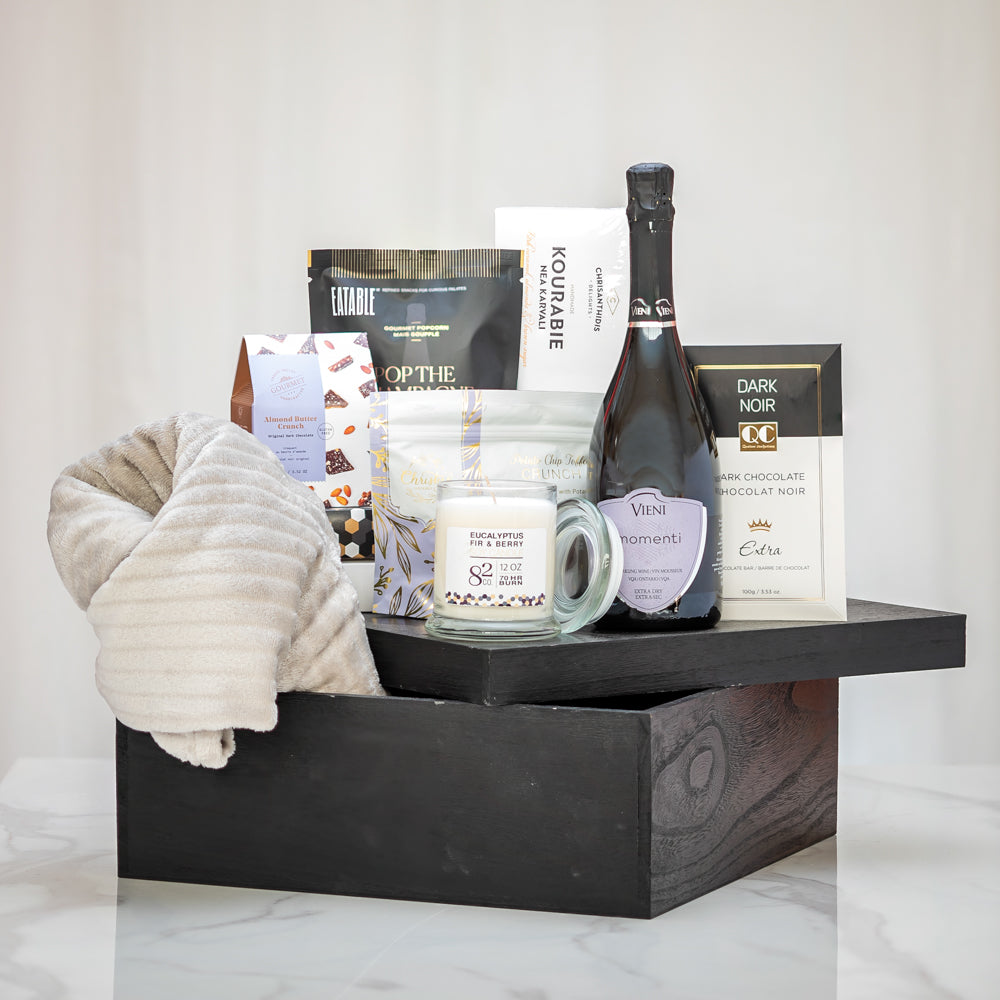 The Cozy Night gift basket is a perfect choice for new grads in need of some well-deserved pampering. Complete with a luxurious Ribbed Fleece Throw, a scented candle by Co.82, and a bottle of Veni Momenti Sparkling Wine, this gift basket creates a cozy ambiance for relaxation. Indulgent treats like dark chocolate, Greek biscuits, and potato chip toffee add a touch of sweetness to their celebration. Cozy Night is a gift that invites the new grad to unwind and revel in their achievements.
Sip Sip Hooray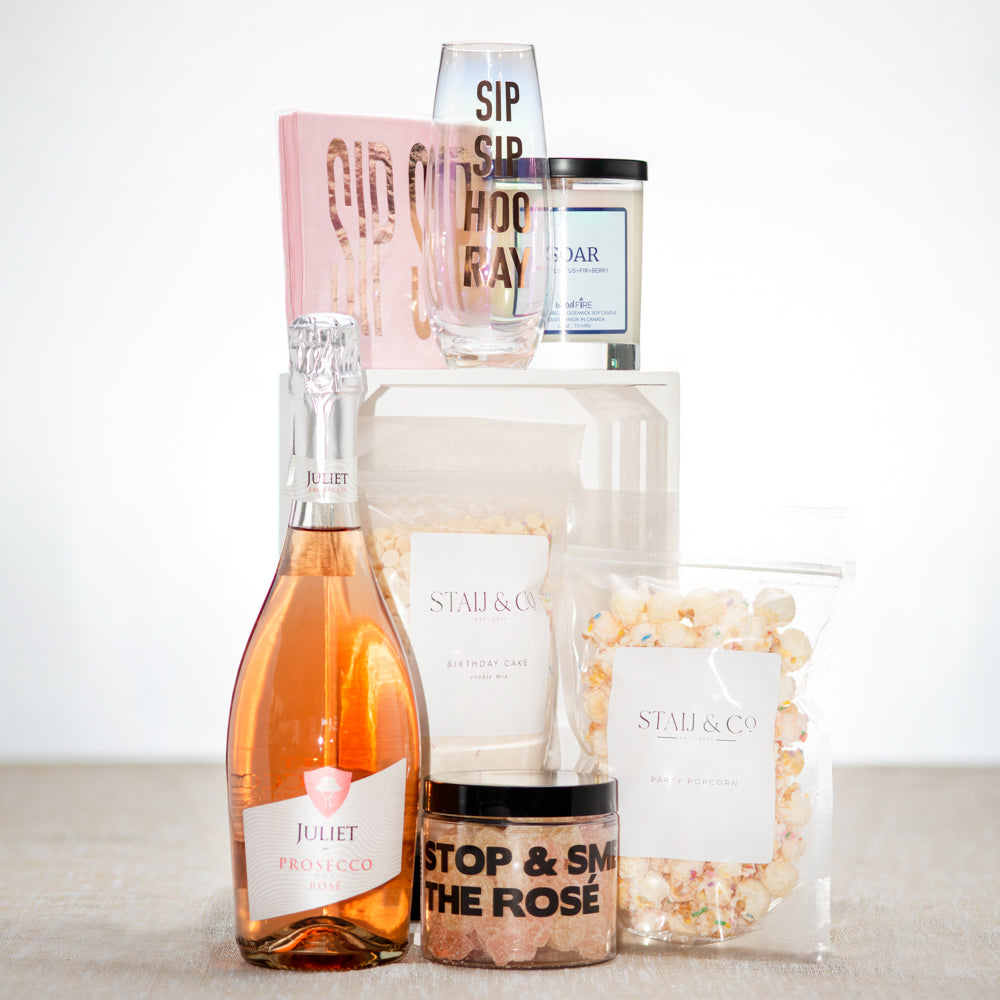 For those looking to toast the accomplishments of a new grad, the Sip Sip Hooray gift basket is a fantastic choice. This delightful ensemble includes a variety of celebratory items, such as a Sip Sip Hooray glass, Juliet Prosecco Sparkling Rosé, and Stop & Smell the Rose Prosecco Gummies. With Staij & co.'s Birthday Cake Cookie Mix and Party Popcorn, they can indulge their sweet and savoury cravings while enjoying the taste of success. Sip Sip Hooray is the perfect gift to honour their achievements and inspire future endeavours.
You're Blushing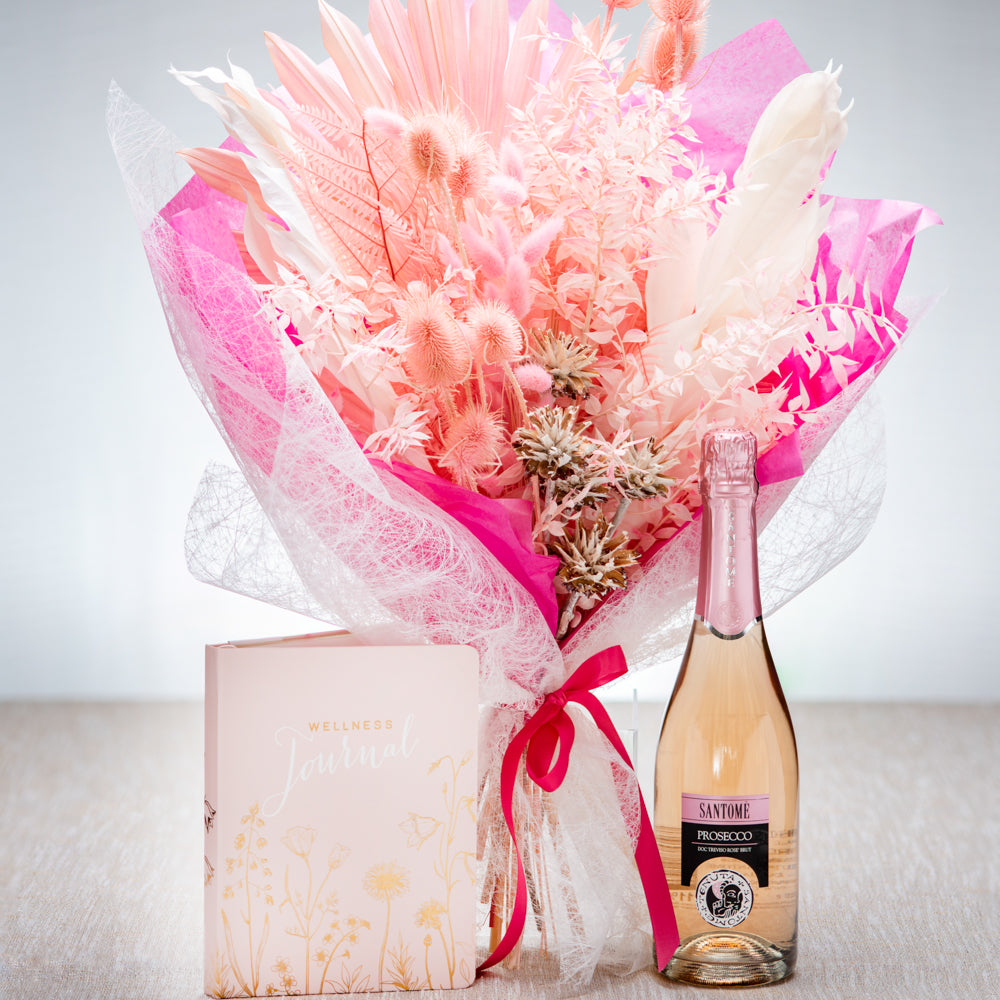 The You're Blushing gift offers a combination of elegance, introspection, and celebration. With a preserved bouquet in pink and creams, this everlasting floral arrangement brings beauty to any space. The mindful journal encourages the new grad to reflect, record thoughts, and embrace personal growth. Complementing the ensemble is a bottle of Santome Prosecco Rose DOC Treviso Brut, providing a refreshing taste of Italy. You're Blushing is a thoughtful gift that celebrates their achievements and encourages them to embrace the journey ahead.
We Love What We Do, And It Shows!
Finding the perfect gift for a new graduate can be a meaningful way to express your support and congratulations. Whether you opt for the Cozy Night gift basket, the Sip Sip Hooray ensemble, or the elegance of the You're Blushing gift, each selection offers a unique blend of items designed to celebrate, inspire, and comfort the new grad.
These gifts celebrate a monumental moment, they embody the appreciation for their hard work and the excitement for their future endeavours. So, when it's time to honour the accomplishments of a new grad, consider these gift baskets from Peter & Paul's Gifts to make their milestone even more memorable.