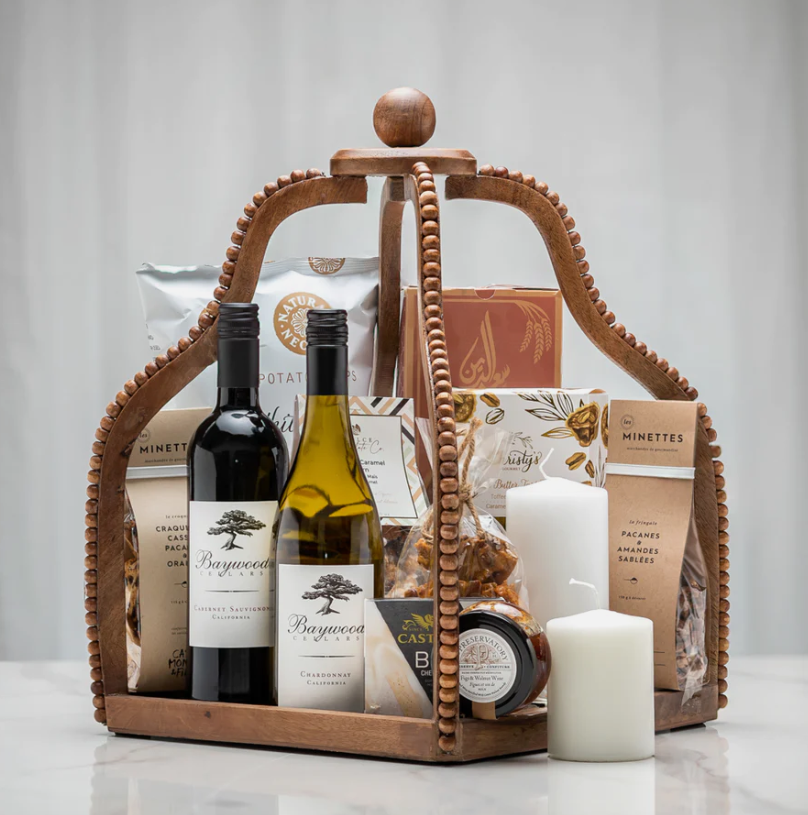 The Best and Most Memorable Hostess Gifts
Want to stand out from the crowd?
Never show up empty handed and give a gift to remember. Showcase your appreciation to your hostess and make meaningful connections!
Peter & Paul's Gifts offers a wide selection of premium handcrafted gifts you can't find anywhere else. With great attention to detail, outstanding presentation, and quality products, Peter & Paul's Gifts will ensure that you give an unforgettable gift to your hostess!
Show your Gratitude
Your host has opened their door to you and welcomed you into their home, give them a gift to show that you value their kindness and make it a night to remember with a lovely handcrafted gift!
3 Unforgettable Host and Hostess Gifts
Every item is hand selected by our gift giving experts, so you'll be sure to leave the best impression!
Make your host smile twice as big with our twice as nice gift set!
This Beautiful wooden crate is accompanied by the most beautiful floral arrangement that will be sure to make your hosts' night! Our Twice as Nice gift set also features Brie Cheddar Cheese Spread, Cherrington Water Crackers, Peanut Brittle and the finest wines by Murelle Montepulciano D'Abruzzo!
Have your hostess feel like royalty with the Royal Entertainer gift Set!
This Beautiful wooden lantern is sure to leave a long lasting impression with its uniquely crafted structure and intricate beading details! This gift set will have your hosts' home feeling extra luxurious, with two premium White Yummi Pillar Candles, BayWood Cellars Cabernet Sauvignon and BayWood Cellars Chardonnay, mouthwatering white truffle potato chips, and more gourmet goodies!
Satisfy every sweet and savory craving with our Bon Appetite Gift Set!
Impress your hostess with a little bit of everything! Our specially selected red birch board with a handle holds our exclusive My Mother's Olive's, Dark Chocolate Bark with Almonds, Co.82 Salted Pistachios, and so much more! Nothing says "Thank you" more than a gift full of your hosts' favorite white wine and snacks!
It's all in the details
Small details can make a huge difference. Make your hostess extra feel special with a handwritten card, custom engraving, fresh flowers, or a personalized satin bow.
Help us continue to spread joy throughout the holidays! View Peter and Paul's Gifts new collection for the latest gift sets and holiday décor!