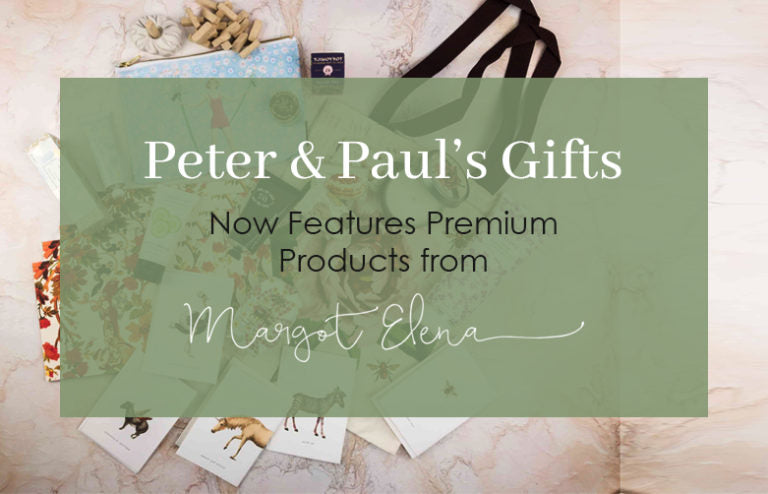 Peter & Paul's Gifts Now Features Premium Products from Margot Elena
Peter & Paul's Gifts is excited to now feature meticulously crafted premium products from Margot Elena on our online gifting store. As a reliable gift basket provider in Canada, the USA, and Europe, we're constantly working towards making our customers' gifting experience more enjoyable for any occasion.
Margot Elena is internationally acclaimed for her luxury product lines that are beautifully balanced in fragrances, designs, and formulations. Known for her revolutionary modern beauty and bath category "Making Beauty More Beautiful", she is a trend leading visionary. Customers and retailers eagerly wait in anticipation for new products from this renowned luxury brand.
Now you can buy select products from Margot Elena at Peter & Paul's website and surprise your loved ones on special occasions, be it their birthday, anniversary, wedding, retirement or any other celebration. Below are some of the products from this premium brand which you can now find in our gift collection.
Lollia Dream Shea Butter Handcreme
It's a rich nourishing hand crème that comes loaded with the goodness of replenishing shea butter, cocoa butter, avocado oil, Macadamia seed oil, and aloe extracts combined with a dreamy fragrance of white tea, honeysuckle, linden, and bergamot blended together. It's an amazing skincare product that provides long-lasting comfort and softness. The product comes packed in a reusable storage box designed by Margot Elena with royal blue floral motifs and sleeve touches of gold leafing.
Lollia Dream Bubble Bath
This moisturizing luxury bubble bath product made it to Oprah's favourite list! It comes with the benefits of olive oil, avocado oil, lavender flower, and aloe vera extracts in a combined refreshing fragrance of white tea, honeysuckle, bergamot, and linden. It's packaged in a quartz-shaped bottle with the signature blue patterns of Margot Elena's Dream line of products.
Lollia Another Quiet Day No. 15 Reed Diffuser
A product from Lollia's Poetic License Reed Diffuser collection, it fills your personal space with a poetic scent. It offers fragrance notes of vanilla, heliotrope, Basmati rice, muguet, almond milk, coconut, musk, and sandalwood. The reusable statement storage box showcases trimmed gold accent lines.
Lollia Another Quiet Day No. 15 Poetic License Candle
Made from soy wax blend, this perfumed candle encased in tailored glass comes with the fragrance notes similar to that of the Another Quiet Day No. 15 Reed Diffuser. The keepsake box in which the candle is packed looks appealing with sophisticated gold accents.
Lollia Dream Perfumed Luminary
This perfumed glass luminary comes with the captivating fragrance of white tea, bergamot, linden, and honeysuckle. It turns the surrounding very pleasant while drifting you off to sleep. It can be a wonderful gift for your loved one.
We're very happy these luxury beauty, bath and home fragrance products from Margot Elena are available on our online store. Our customers can send these through our website to family and friends. With us, customers will also have the option to personalize these items to make them even more special and delightful for the recipients. Visit our online store today and spread the fragrant bliss to your loved ones with Peter & Paul's Gifts and Margot Elena!