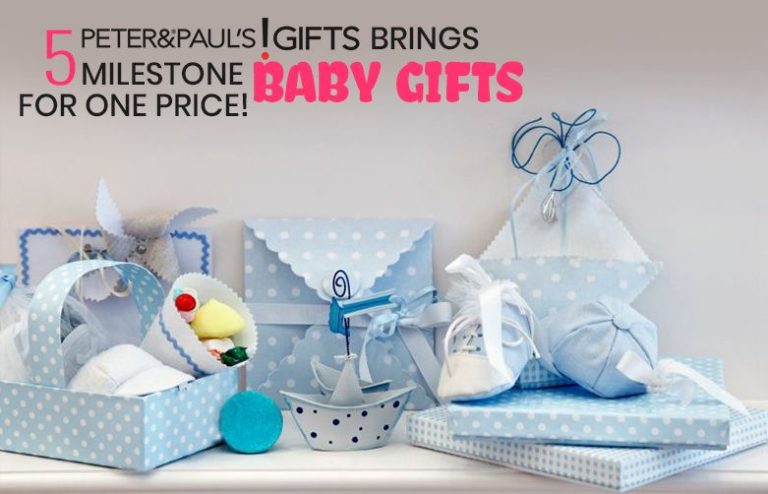 Peter & Paul's Gifts Brings 5 Milestone Baby Gifts for One Price!
Celebrating the birth and different phases of a baby's growth is extremely special for parents, family, and friends. From the arrival of the new bundle of joy, parents get to witness the growth of their baby every day as it starts to interact, learns to crawl, walk, develop motor skills, and language over the first year of life and beyond.
Milestone gifts are a great way to mark these different phases of development and celebrate the happiness and experience of parenthood. They're ideal to congratulate the parents and convey your best wishes for the baby.
Peter & Paul's Gifts understands how important it is to make the new parents and the baby feel special. This is why we now offer exclusive Milestone Baby Gift subscription boxes to meet the needs of all the individual stages of a baby's first year.
What Makes Our Milestone Baby Gift Collection Special?
This baby gift collection is specifically designed to celebrate the different milestones of a baby throughout a year. They're available as baby subscription boxes for when the baby is born when it reaches 3 months, 6 months, 9 months, and 12 months respectively. The most amazing part of this gift collection is that you get five individual gift boxes at one price!
We understand that every baby is unique and we have designed our boxes with this fact in mind. We ensure that each box is loaded with amazing goodies that promote engagement, development, and growth suitable for a specific age period. Be it clothing items, toys, books or accessories, we make sure that the items in each box changes according to the new milestone of the baby.
When you buy our
Milestone Baby Gift Collection
, we'll send a gift basket to the recipient with age-appropriate items on every milestone based on your subscription. This means, each box will ship out to the recipient when the baby is born, when it's 3 months, 6 months, 9 months, and 12 months of age respectively on the exact dates specified by you. Peter & Paul's Gifts brings you this wonderful milestone present comprising of 5 individual gifts priced at just $275 CAD. So,
you pay one price for five gifts!
Each of these gift boxes is available for baby boys, and baby girls. We have also kept our selection suitable if you're looking for gender-neutral milestone gifts.
Sending beautiful, appropriate baby gifts to celebrate every new milestone in the baby's first year of life right on time is an excellent way of making the parents feel special and delighted. These thoughtful milestone baby gifts from Peter & Paul's Gifts will surely be appreciated by the happy parents.  For more gift ideas, browse through our website.