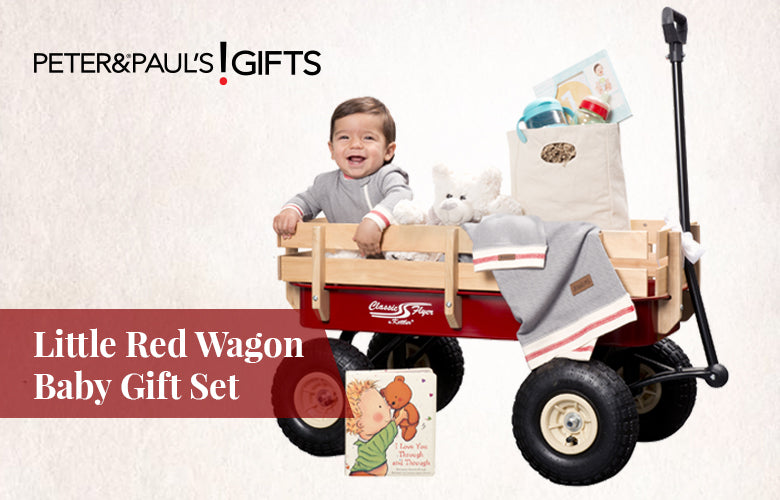 Loveable Baby Gift Baskets from Peter & Paul's Gifts
If a family member or a friend is expecting or has recently had a baby, an adorable baby gift basket can be a welcoming present. However, you should be attentive when shopping for one to make sure that the basket contains necessities that the family may need or want. Congratulate the proud parents and be a significant mark to perhaps the most special event in their lives with baby gift baskets from Peter & Paul's Gifts. We bring a wide range of unique gifts with practical supplies that can come in handy for anyone with a baby. Read our blog post and discover some of the products we have to offer which can guarantee both you and your recipient are happy with the gifts they receive.
Baby Bedtime Essentials
This baby basket is specially crafted to provide the little ones with some tender loving and care around bedtime. It contains a 100% cotton sleeper, a swaddling blanket, and a plush cuddler among other items that can help the child fall asleep in no time.
The Printed Sleeper has a moon and stars pattern that can help set the mood for their bed. The You and Me, Me and You Book is a heartfelt book telling the story of the bond between a father and his kid with bright illustrations. The Aurora 10' Plush Cuddler can be the perfect nighttime companion for any little one, being comforting to the touch and the ideal size to cuddle in. The Perlim Pinpin Muslin is a soft and cozy blanket to swaddle the little one with love. It's a 100% cotton and pre-washed blanket that can be used as a stroller cover or other limitless ways.
Little Red Wagon Baby Gift Set
The little one will definitely be sleeping in style with this gift set. It's packed with a matching blanket and outfit set with lunch essentials to get your baby ready for a day out.
The Juddlies Sleeper & Hat is made using 100% cotton and can make the infant feel cozy and ready for bedtime. An adorable sock with a monkey pattern and soft fabric can ensure they look their cutest. The Juddlies Blanket matches the set and adds more appeal to the set. The Phillips AVENT Sippy Cup is great at keeping the little ones clean during meal times and otherwise. It's dishwasher safe and BPA free to keep them healthy and make sure the cleanup is hassle-free. The Belly Stickers can help keep track of how fast the baby's growing.
Baby Essentials 
The TY Plush Teddy Bear is a plush teddy bear that the little ones can go to when seeking comfort through the night. The Receiving Blanket is made with 100% pure cotton and is soft on the baby's sensitive skin. The Bib is super absorbent featuring an adorable pattern and can protect them during meal times. There's a pair of beautifully printed Pajamas that can keep the little one warm throughout the night. 
Memory box
This delightful box is great for making memories as the baby grows up. Make the time passing by memorable with this heartfelt book that can be filled with mom's Letters to My Baby. It includes a spike ball and a wooden toy that can entertain the child, and Honest Company baby wipes that can clean up after their mess.
Penguin Love Basket Deluxe
This is an adorable penguin themed basked brimming with items meant to soothe and comfort the little one. The Snugabye Kimono 2 Piece Outfit is a sleeper made with 100% cotton and can be a lovable addition to the baby's wardrobe. The Aurora Penguin Plush Toy is from the Baby Collection at Aurora with a neutral rich palette and is embroidered. The Aurora Penguin Lovey is a handmade lovey designed to be their go-to comfort item. It's soft to touch with a washable surface. A cute yet funny take on bedtime stories is the book "Everything is Mama" by Jimmy Fallon – the Grammy Award and Emmy Award winner. 
Little Rock Star
This gift set is ideal for the edgy and music enthusiast parents. The set includes Rock and Roll icon John Lennon inspired book and a 100% cotton outfit with much more.
The Bella Tunno "Bite Me" Teether comes with an easy-to-hold grip, is FDA approved, and made with a premium quality silicone. It's a great tool to help soothe the infant's teething gums. The John Lennon "Imagine" Book is a storybook featuring lyrics of the artist's iconic songs along with illustrations by award-winning artist, Jean Julien. The Kushies "Little Rockstar" Outfit is a bold star collection by Blue Banana. Made with super soft cotton, it's great for those looking for something that makes a statement for their newborn.
Sending a loved one a baby gift basket from Peter & Paul's Gifts is the perfect way to send your thoughts and celebrate the newest addition to their family. Our products are thoughtfully curated with gender-appropriate items that are completely healthy and safe for babies. Surprise the new parents and honour their newborn with a wide selection of gifts that can help double the joys of parenthood.