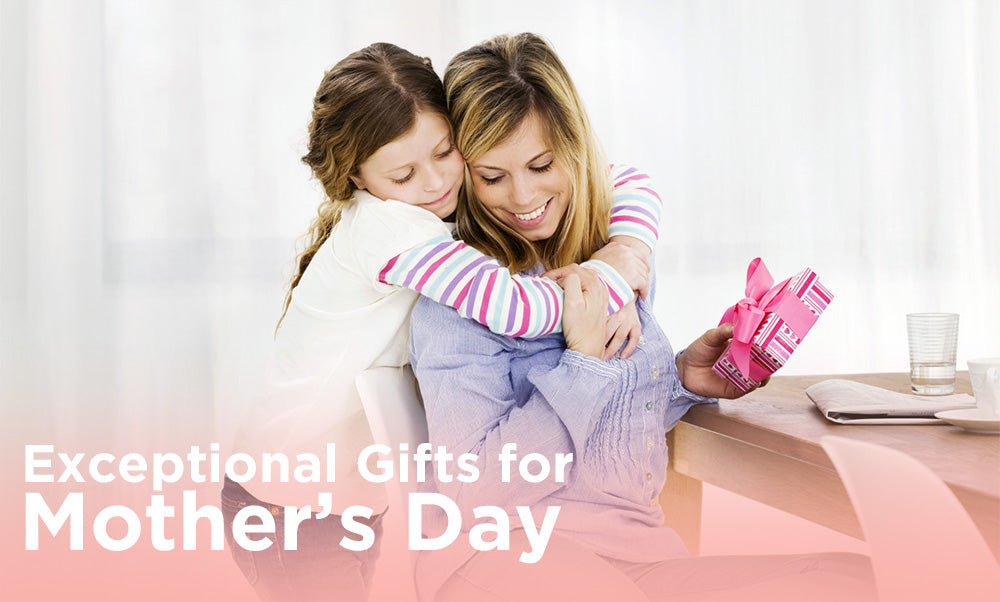 Exceptional Gift Baskets for Mother's Day
Mother's Day is a day dedicated to the amazing women in our lives and commemorates motherhood. The day falls on the second Sunday of May and will be observed on May 12 this year. It provides the perfect opportunity to show your appreciation towards all mother-figures and mothers, including foster mothers, grandmothers, great-grandmothers, and stepmothers. When the time comes to thank her for all that she's done for you, send her a thoughtful gift basket from Peter and Paul's Gifts. Our products can convey your sincere love for them, especially when you can't be there to give it to them yourself. Our baskets have been exclusively designed for the day to ensure she cherishes it and remembers the sweet gesture. To make it extra special, consider personalizing the gift basket for free by embroidering (Sweet Sensation, Only You) or engraving (All My Love, Shine Bright) her name, or just "Mom".
This year, impress your mom with this gorgeous spa gift set and include a personalized touch to it. The products are placed on a Wooden White Tray that can be re-purposed and re-used once the goodies are gone. The Personalized Embroidered Floral Satin Robe With pockets is a silky kimono that includes custom embroidery for you to place your mom's initials or just "Mom" on, and is sure to melt her heart. The kimono is designed to provide a relaxed fit with deep roomy sleeves, a tie sash belt, and side seam pockets. It will make her feel stylish even performing the most mundane everyday tasks such as getting ready for bed. The Two's Company Sweet Dreams Lavender Tea Bath Salts will instantly fill the bath with the freshness of lavenders, that she can relax in and enjoy. The Michael Design Works Love a Little Soap is made using pure vegetable palm oil and glycerin. The Michael Design Works Paradise Pocket Tissue is meant for practical everyday use and comes in a resealable packet.
You can send her the gift of coziness and comfort this Mother's Day with this gift basket. It includes a Custom Embroidered Extra Soft Throw which is creamy white in colour and measures at 120 x 150 cm. The embroidery is added with the product so you can get anything you want to be engraved and personalize the present. The Mama Bird Mug features a hand-drawn art from Hello World. It shows Boho meeting Urban Chic and has an uplifting phrase printed on it. Order your gift basket soon and have it delivered to anywhere in Canada and the GTA.
Imagine how you will feel when you see the special lady in your life open this personally Engraved Wood Crate with Locking Hinge. It contains a delicious bottle of Santhomas Cuvèe Pinot Grigio which is a sparkling Rosé wine made using the freshest Pinot Noir grapes. It has a special blend of fruity and floral fragrances and flavours. The Sugarfina Bubbly Bears are imported from Germany and have a sour twist to their taste. These champagne-infused gummy bears are coated in a layer of tarty and sweet sugar crystals to provide a sophisticated mix of flavours that pops in the mouth. It's a Sugarfina exclusive product, made with Dom Pérignon Vintage Champagne and is completely non-alcoholic. This limited-edition gift is especially in our collection for Mother's Day and can be shipped across Canada.
This customizable gift is the perfect way to tell your mom how much you love and appreciate her on Mother's Day. It includes an Engraved Long Disc Necklace that is rose gold in colour and can have a custom engraving on it. This beautiful and timeless piece can be matched with any outfit. If a circle pendant isn't her style, you can choose a name tag instead. The Marble Serving Tray is a timeless piece which she can use to store her jewellery and other items in. The Mirror Jewellery Box is an elegant and unique mirrored box with the word "Love" engraved on one of the sides and the lid.
This Mother's Day, choose lovely gift baskets from Peter & Paul's Gifts and send them to all mothers and mother-figures in your life, as a way of showing them how much they mean to you. Our products are carefully curated, and assembled by our experts and delivered right to the doorstep of the recipient. You can have the gift personalized by adding a message and turning it into a truly one-of-a-kind gift that she will brag about to her friends. Our collection has a wide range of gift baskets that are sure to delight any taste.