Corporate Gifting: Building Strong Connections Beyond Business
Kango X PPG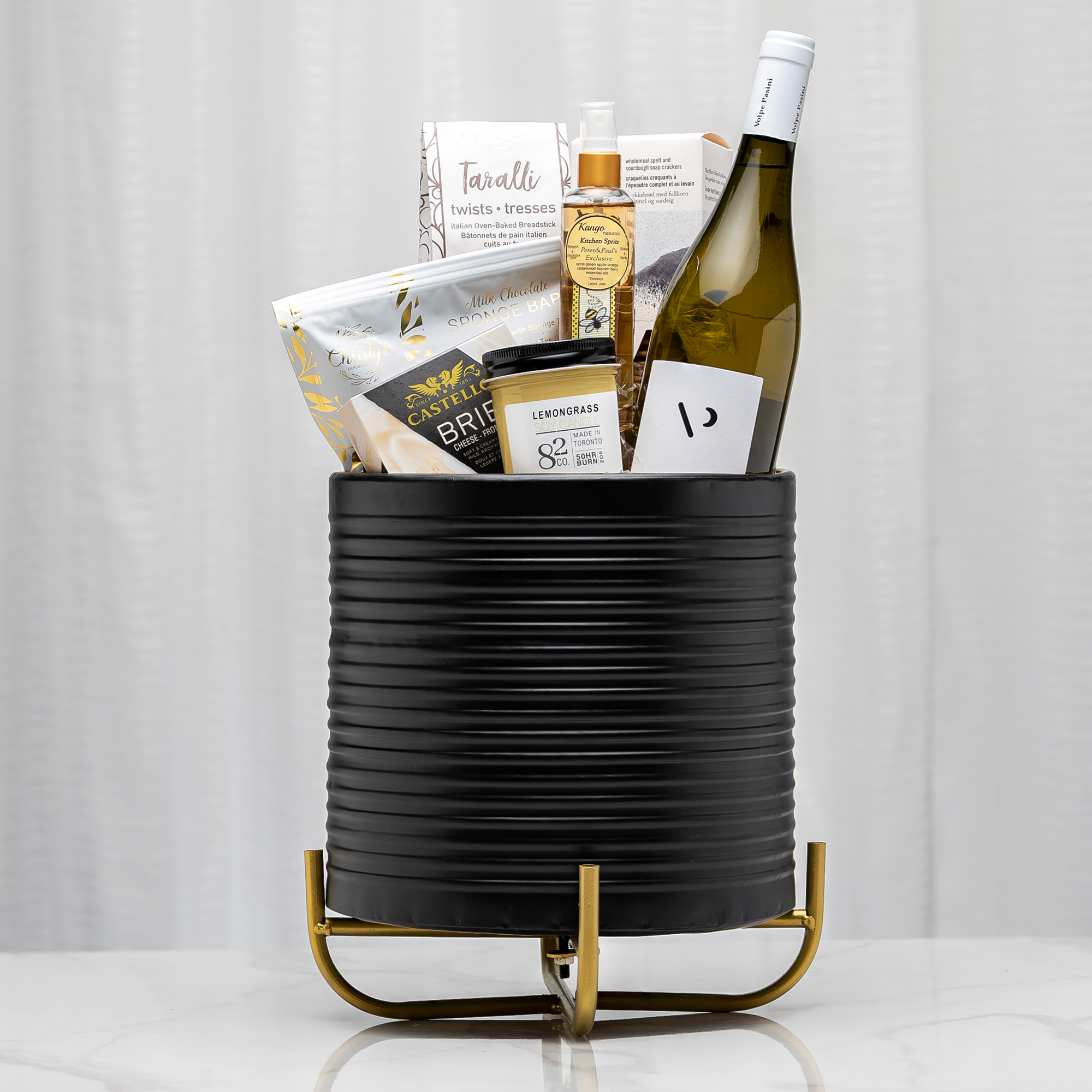 The Kango X PPG Gift Basket is a unique corporate gift that combines sophistication and luxury. Presented in a stunning black planter with gold trim, it is an embodiment of style. This exquisite gift includes a delightful assortment of gourmet treats such as Mor snap crackers, Castello Brie cheese, Taralli twists, and Christy's milk chocolate sponge bark.
But what sets this gift apart is the exclusive room spray by Kango. This aromatic room spray offers a refreshing ambiance to any space, pairing perfectly with the exclusive Lemongrass candle and happily handcrafted in Toronto. To complete this extraordinary experience, the basket includes a bottle of Volpe Pasini Sauvignon white wine, perfect for indulging in moments of celebration and relaxation.
The Kango X PPG Gift Basket is a perfect choice for corporate gifting, showcasing elegance, premium quality, and a touch of exclusivity.
The Perfect Hostess
The Perfect Hostess Gift Basket is a remarkable corporate gift that exudes elegance and thoughtfulness. Encased in a stunning metal tub with a wood lid and rope handles, it presents a blend of flavors and indulgences that are sure to delight.
This carefully curated gift includes an array of gourmet treats such as My Mother's Olives olive oil and olives, Chocolat classique truffles, Co.82 pistachios and cashews, Ma's kitchen chocolate bark with nuts, Dolce chocolate co. Sea salt caramel bark, Dolce chocolate co. Dark chocolate pecan bark, and three exquisite Caleo red wines: Montepulciano d'Abruzzo, Primitivo Salento, and Nero d'Avola Sicilia.
The combination of these delectable treats and fine wines makes the Perfect Hostess Gift Basket a memorable choice that will leave a lasting impression on recipients, making it a truly exceptional corporate gift.
Serenity Board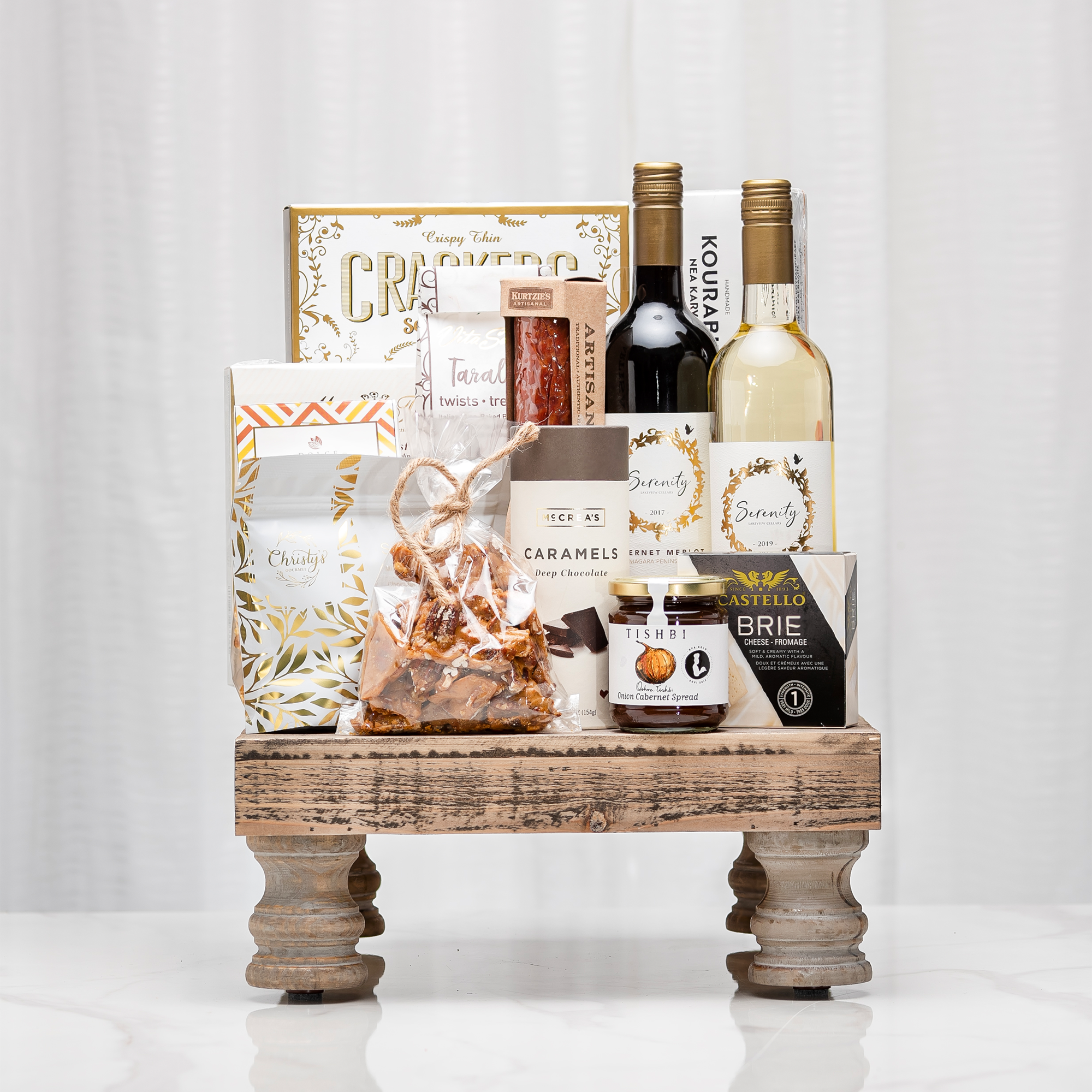 The Serenity Board Gift Basket is an exceptional corporate gift that embodies indulgence and luxe. Packed with a delightful array of gourmet delicacies, this gift is sure to impress. It includes: Vita Sana taralli breadsticks, Kourabie Greek biscuits, Christy's milk chocolate sponge toffee bark, sesame water crackers, Castello brie and a wide variety of tasty treats.
To complement the delectable treats, this basket also features two outstanding Serenity wines: a Cabernet Merlot red wine and a Sauvignon Blanc white wine. The Serenity Board Gift Basket is the epitome of sophistication and indulgence, making it an excellent choice for corporate gifting that will surely leave a lasting impression on recipients.
We Love What We Do and It Shows!
Corporate gifting is an art that goes beyond mere gestures. It is a powerful tool to build connections, express gratitude, and leave a lasting impression. Whether you're looking to strengthen client relationships, recognize your dedicated employees, or celebrate milestones, Peter & Paul's Gifts has the perfect gift to suit every occasion. Shop online today!