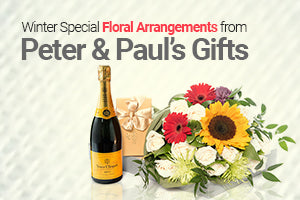 Bring Cheer into Your Home This Winter with Peter & Paul's Flower Arrangements
We are well-known for unrivalled quality, service along with the stunning and stylish arrangements that are perfect for any occasion. Whether it's Christmas celebration, an anniversary, birthdays, for a new baby, or simply because you felt like it, we have the perfect present that can show your loved ones they are truly appreciated. Read further and take a look at our range of products that are hand-tied to perfection by our passionate designers.
Capture the wonder and cheer of winter with flower arrangements from Peter & Paul's Gifts. Our seasonal blooms can help bring warmth and a lively spirit into any interior décor, regardless of the temperature outside. Our arrangements are truly custom-made, designed personally by creative artists who have extensive experience of working in the field. All of our floral arrangements are unmatched for their exceptional style along with their capability of uplifting anyone's spirit.
Captivated By You
This is a beautifully composed arrangement that you can send to a loved one without any reason. They will surely be fascinated by its pureness as the design consists of white gerberas, green superrose, green bells, aspidesta, and tricillium. The lavish arrangement is prepared in a sweeping design that comes in a beautiful vase, which enhances the beauty of the flowers. The arrangement is truly a testament of your love and passion for the person you are gifting it to.
Vibrant Vitality
Make your loved one feel vibrant with orange cymbidium orchids, sunflowers, red roses, gerberas, daisies, green button mums and much more in this flower arrangement. One of our most popular arrangements, it is truly a vision of pure festivity. It is elegantly composed and comes in a long black vase which enhances the colours of the flowers and makes it an intense homage to the happy events and celebrations in life. It can ensure you show your appreciation with the exuberant colours that are perfect to convey your gratitude and evoke joy.
Rosé Boule
This flower arrangement features an abundance of beauty being filled with lavender roses, green berries, orange cymbidium orchids, and ranunculus among many others. Composed in a low rose clay bowl, it brings the season's favourite blooms to make the perfect gift for that special someone. The arrangement is overflowing with elegant blossoms, making it truly a floral fantasy.
Mercury Magic Set
This set consists of beautiful seasonal greens including succulents, green cymbidium, twigs, and pinecones that are highlighted by the fabulous collection of silver and gold mercury vases. This set is perfect as a centrepiece in any part of the home, or a breathtaking gift for that someone special. It is no doubt, an impressive and elegant choice for any occasion.
Lantern Love
This bright and beautiful centrepiece is capable of drawing in the attention of the entire room while also perfectly accenting the festivities during the holidays. Make memories with your loved ones through our luxurious and thoughtfully hand-designed centrepiece with a candle within a glass insert in the middle that will surely bring radiance and cheer into your loved one's home as well as the hearts of family and friends.
Luscious Life – Deluxe
Celebrate any holiday or occasion with this spectacular hand-tied bouquet. The collection comes with Veuve Clicquot and Godiva truffles that pair seamlessly and is the perfect gift for chocolate lovers. Your recipient can start their day with a sunny plash of vibrant colours with the exotic flowers in this arrangement that can make their day that much more special. Allow them to discover the perfect pairing of truffles and champagne with mouth-watering flavours ideal for sharing. This arrangement defines celebration in the truest form.
Divine Planter
This floral arrangement consists of a beautiful composition of roses, hydrangeas, gerbera, daisies, green buttons, hypericum berries and wax flowers with curly willow throughout, providing a flawless balance. This planter can be displayed on a mantle, a large windowsill or can be used as a centrepiece during any occasion or event.
You don't need to have a special occasion to add flowers to your interiors. We can make it even easier with fresh flower arrangements that fit in with any décor and also bring tidings of good cheer and warmth into your loved one's home. Our range of beautiful flowers can put a bright start to anyone's day. Our design experts are working hard to create stunning floral arrangements that your recipient can enjoy to the fullest.