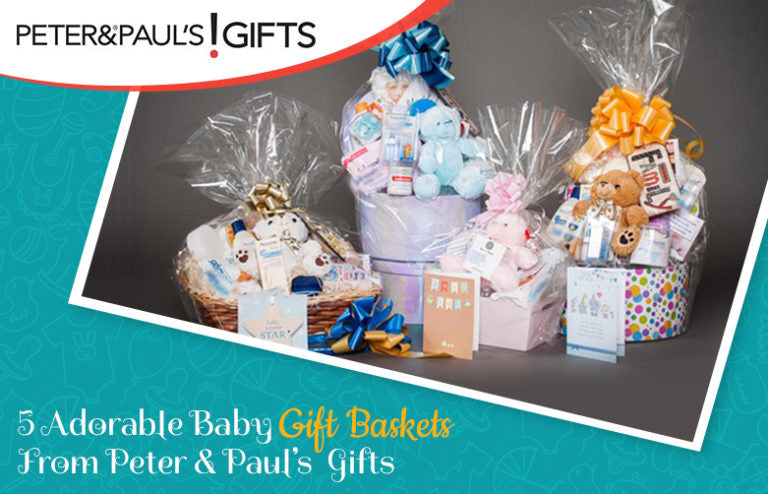 5 Adorable Baby Gift Baskets from Peter & Paul's Gifts
Be it celebrating the birth of a new baby or a baby milestone, both are very special occasions for the family. Gifts are a wonderful way to convey your wishes to the baby and its parents. However, choosing the perfect baby gift is a challenging task because it has to be both practical and thoughtful.
Gift baskets are a popular choice for babies as they come loaded with various age-appropriate goodies. At Peter & Paul's Gifts, we understand the different needs of babies at various phases of their lives. We've brought an exclusive collection of baby gift baskets to make the celebration memorable. Here are five of our top adorable baby gift baskets to inspire you to make the right choice.
1. Milestone Collection
A perfect gift to celebrate the different milestones in the baby's first year of life, the Milestone Baby Gift Collection is one of our top picks. This collection comes with individual gift boxes filled with beautiful age-appropriate goodies for different milestones of the baby's life such as the birth, at 3 months, 6 months, 9 months, and 12 months respectively. You get five gift boxes for one price in this collection where each box will be shipped out to the recipient on each milestone.
2. Muskoka Stars
This is a perfect gift set to turn the sleep time of your little bundle of joy a memorable one under the stars or by the fire. It contains a checkered blanket and a checkered burp cloth made of 100% premium cotton to keep your baby warm and cozy; an adorable 2 piece pajama set from Kushies with an X and O print that stands for hugs and kisses; and a heartwarming children's book with beautiful illustrations that will make it easier to put your baby to bed.
3. Welcome Home
One of our favourites, this is an ideal gift to welcome a new baby to your home. This adorable keepsake basket features 4 piece panda-shaped Tupperware set; a receiving blanket from Kushies made of 100% premium cotton; a trendy comfortable set of long sleeve cardigan, footed pant and hat to bring your baby home in style; and a "My First" chalkboard to write down all the first special moments of your baby. It's a complete package for making your little one look great, feel great when having meals, and stay warm and comfortable while you keep nothing down golden memories.
4. Baby Girl Wooden Wagon
A cute wood wagon that can be personalized with your baby girl's name makes for an amazing décor piece in your little one's room. The wagon comes loaded with goodies that not only compliment the baby's first year but also keepsakes that can be cherished forever. The items include I Love You Keepsake Storybook collection that contains five illustrated stories, a belly sticker set with 12 stickers for each month of the baby's first year, a plush blanket, a handprint kit, and a 6 piece fashionable outfit set. This Baby Girl Wooden Wagon is a perfect gift for a baby or expectant parent.
5. Baby Boy Wooden Bench
It's an adorable wooden bench which can be personalized with the baby's name. Accompanied with a muslin blanket, a super comfy pajama set with hat and bib, a plush Teddy bear, and a funny story book with bedtime stories written by the Emmy Award and Grammy Award Winner Jimmy Fallon, it's a perfect present to celebrate the baby and new parents.
Follow our recommendations when choosing a baby gift basket and make the occasion more special and memorable. Share the excitement with any of these baby gifts from Peter & Paul's Gifts. Browse through our baby gift section for more ideas.