Unwrap the Essence of Canada: Celebrate July with Peter & Paul's Gift Baskets
From gourmet gift baskets featuring delicious Canadian treats to artisanal crafts and products that highlight Canada's flavours, Peter & Paul's Gifts ensures that every gift captures the essence of Canada. Imagine surprising someone special with a beautifully packaged gift basket filled with maple-infused delicacies, Canadian brews, or decadent chocolates made from the finest Canadian ingredients. Each item is carefully selected to provide a genuine taste of Canada and create a memorable experience for the recipient. Keep on reading to find out about our selection of Canadian Gifts.
Good Morning Canada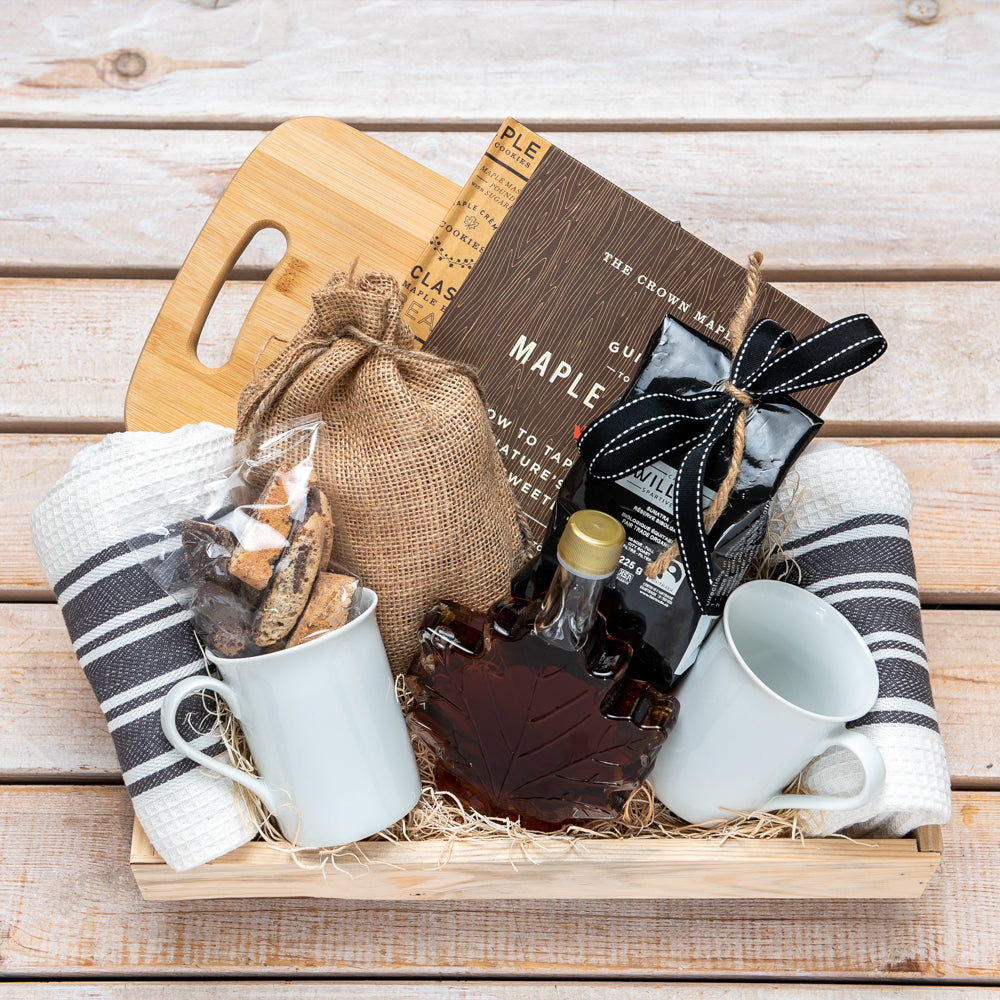 Wake up to a burst of Canadian flavour and indulge in the Good Morning Canada gift basket. This delightful ensemble is like a sunrise for your taste buds, offering a tantalizing array of goodies that celebrate the essence of Canadian breakfast traditions. Dive into the captivating Guide to Maple Syrup book, as you sip your morning java from the classic White Mugs and soak in the cozy ambiance. The Bamboo Pancake Serving Platter adds a touch of rustic elegance to your table, while the Grey Stripe Tea Towels bring both style and functionality to your kitchen.
Energize your senses with a cup of robust Sumatra Coffee and experience a true Canadian indulgence with Maple Syrup in a maple leaf bottle by drizzling it over a batch of aromatic Maple Cinnamon Pancakes using the included mix. But that's not all, enjoy a Chocolate Dip Biscotti, perfect for dunking and savoring each blissful bite. The Good Morning Canada gift basket is an enchanting invitation to embrace the joy of Canadian mornings, celebrating the delectable flavours that make breakfast the most delightful meal of the day.
Canadian Classic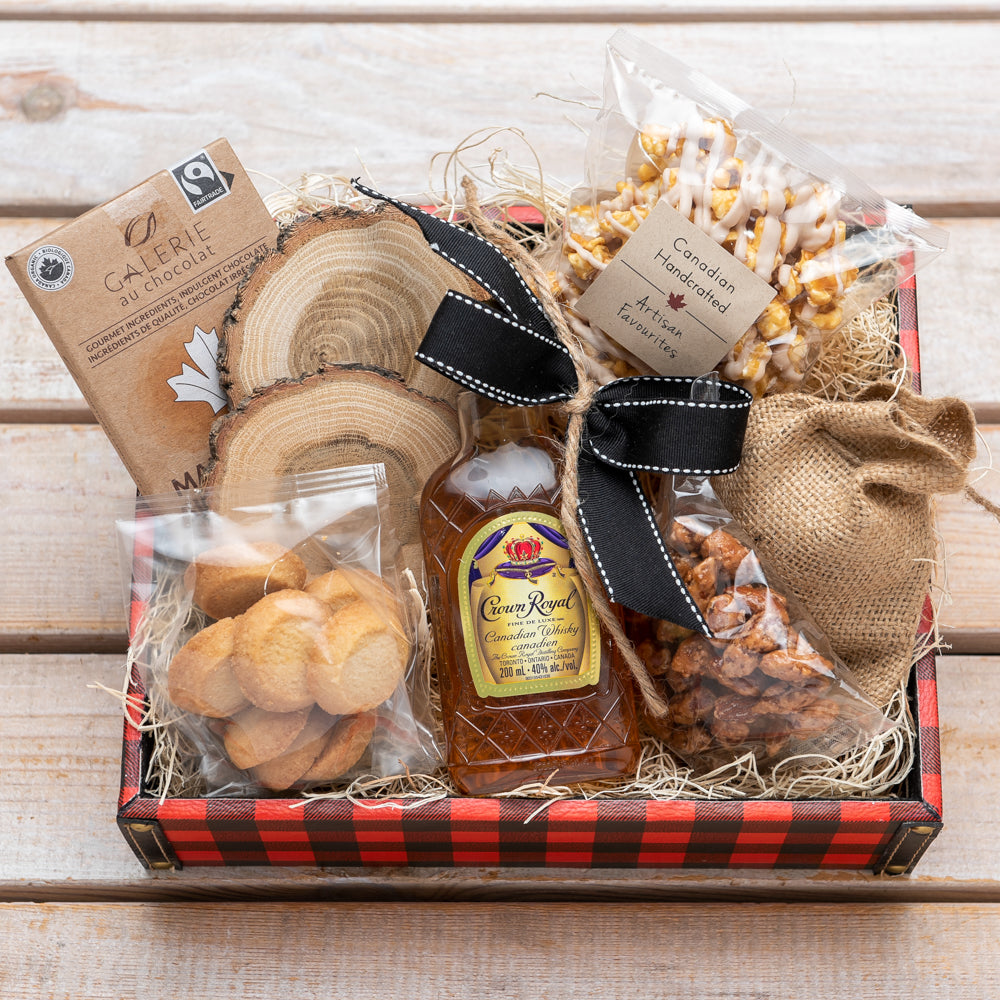 Step into the world of Canadian indulgence with the Canadian Classic gift basket. This extraordinary collection beautifully combines the best of both worlds—fine Canadian Whiskey and the irresistibly buttery taste of maple. Indulge in the delectable maple roasted almonds and the melt-in-your-mouth handcrafted maple shortbread. Treat yourself to the organic maple chocolate, a harmonious blend of smooth, velvety chocolate and the distinct taste of maple.
And if that's not enough, the maple glazed crunch will take you on a journey of sweet and crispy delight. To add a touch of natural beauty, the gift basket also includes natural live edge coasters, enhancing your sipping experience with an authentic Canadian touch. The Canadian Classic gift basket is a testament to the exceptional flavors that Canada has to offer, providing a truly unforgettable gourmet experience.
Canadian Brew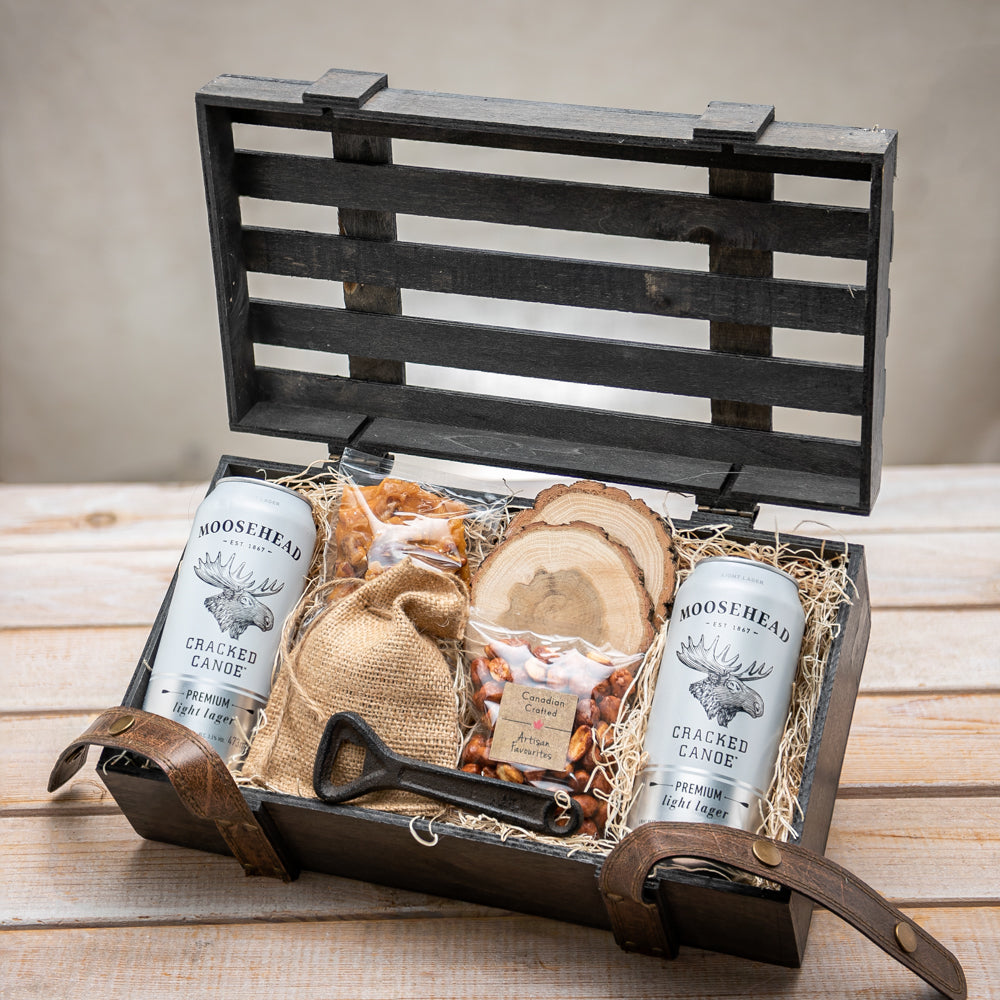 Raise a glass to the Canadian Brew gift basket, a celebration of the finest Canadian craft brews and delectable snacks. Packaged in a charming small crate, this gift set is a beer lover's dream come true. Unwind and relax with two wood coasters, perfect for keeping your beverages steady while adding a rustic touch to your drinking experience. Pop open your favorite brew with the small-aged bottle opener, a vintage-inspired tool that adds a touch of nostalgia to every sip.
As you indulge in the flavorful Moosehead Beer, savour the perfect gourmet snacks that perfectly compliment the rich Moosehead beverage. The cashew almond brittle offers a sweet and nutty crunch, while the maple glazed almonds provide a delightful combination of sweet and savoury flavors. And what's a beer without some salty pretzels? Enjoy the satisfying crunch of the salted pretzels as you sip your brew and relax. The Canadian Brew gift basket is the ultimate treat for beer enthusiasts, combining the best of Canadian craft brews and irresistible snacks that elevate your drinking experience to new heights.
Find Your Canadian Gifts at Peter & Paul's Gifts
Whether you're looking to celebrate Canada's birth month or simply wanting to share a taste of Canada with someone special, Peter & Paul's Gifts offers an impressive selection of gift baskets that capture the essence of Canadian pride. Embrace the spirit of gifting this July and honour Canada's heritage with these thoughtfully curated Canadian gift baskets by Peter & Paul's Gifts are sure to delight and impress.