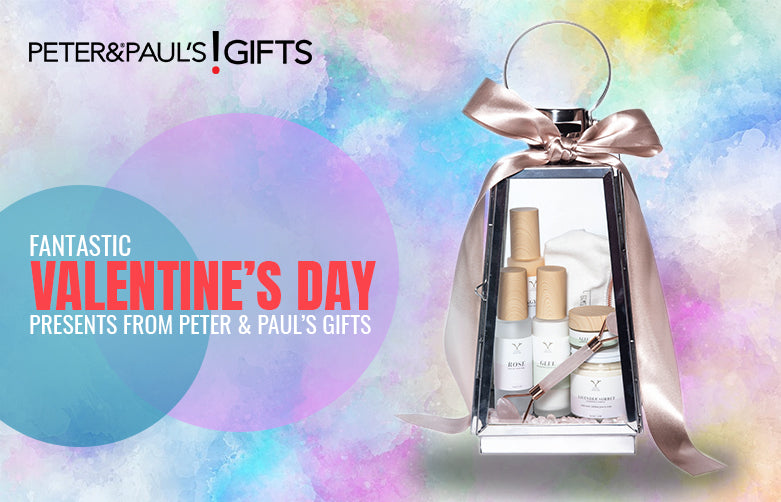 Fantastic Valentine's Day Presents from Peter & Paul's Gifts
Say 'I Love You' this Valentine's Day with gourmet gift baskets from Peter & Paul's Gifts. Our products feature fresh flowers, decadent chocolates, sweet treats, savoury snacks and spa products that are carefully handpicked by our expert gift givers. We have a wide range of products that your significant other won't be able to resist. After all, this is the main purpose of sending a Valentine's Day present. Our exclusive gift baskets are thoughtfully created to delight your significant other and make them appreciate your relationship. Keep reading and discover some products from our collection exclusively curated for this special day that celebrates love.
Breakfast in Bed
This gift basket contains a wooden bed tray with all the fixings required to make a gourmet breakfast in bed. Enjoy a cozy morning with your significant other with a versatile collection of gourmet food items.
The French Roast Coffee has a dark chocolate colour and a rich, smoky flavour. The Healthy Bites Fig & Almond Dried Fruit Cake is handmade with figs and roasted almonds studded on the edges. The Castello Brie Cheese in this gift basket has a soft texture, very similar to camembert and an aromatic taste which pairs well with fresh vegetables and roasted hazelnuts. The Pierre Biscuiterie French Butter Cookies with Sea Salt Caramel is made with creamy caramel with a sweet and salty mix created with sea salt. The Fine Cheese Co. Dates, Hazelnut and Pumpkin Seeds Toast is a light and crispy toast made of 60% nuts, seeds, and fruits. It's an enjoyable snack that pairs well with creamy cheeses.
Oriwest Lantern
This is a completely natural line by Oriwest and is 100% vegan. The stunning lantern is packed with the best items from Oriwest and is perfect when you are looking to have a spa day at home.
The Oriwest Rose Water Facial Mist is a hydrating facial mist that smells like rose and helps balance the skin's pH level. It aids in minimizing the visibility of open pores and is ideal for sensitive skin. The Oriwest "Glee" Jojoba Spray Lotion has a tropical aroma of ylang-ylang, geranium, and lemongrass. It's a versatile and milky spray that is specially formulated with organic jojoba seed oil that's similar to the skin's natural oils. It helps lock in hydration and provides a nourishing and moisture-rich touch. The Oriwest Lavender Sorbet Vegan Body scrub is completely natural, infused with essential jojoba and lavender oil that can moisturize your skin.
Rose All Day
This elegant wire basket has a rose gold colour and is full of items from the Le Bouquet de Lili collection designed to provide the best self-pampering experience.
The Sugarfina Rose All Day 3 pc Candy Bento Box contains Sugarfina's most popular candies, Sparkling Rosé Bears, Rosé All Day Bears and Rosé Roses. The Le Bouquet de Lili Room spray has a subtle fragrance of fresh herbs and white flowers. Since it's highly concentrated, just a few sprays are enough. The Le Bouquet se Lili Soap is a 100% vegetable-based soap which is enriched with shea butter. Every bar is milled three times making it last longer. The Le Bouquet se Lili Bath Salts is the perfect companion for a hot bath, providing a soothing experience. It's enhanced with a bright fragrance and ideal for relieving tired muscles.
Sugarfina Trunk
You can make a lasting impression with the Sugarfina Candy Trunk, bursting with delectable sweets. This over-the-top candy trunk is capable of getting you the award for best gift giver. It has a brass lock which opens up to reveal 20 candy cubes that are attractively settled into a tiered presentation and lined with luxe velvet. The trunk can be turned into a keepsake long after the treats are gone and can be used as a jewellery box or anything else you'd like.
The Rose is For You
Valentine's Day gifts are all about spoiling your loved ones by spreading love on this day. It provides the best opportunity for you to surprise your partner, family or friends with a keepsake that will remind them of you every time they look at it. This gift box is double hinged, black in colour and full of delectable treats making it perfect for a romantic evening. It contains a bottle of red wine, one red rose and several decadent chocolates that you can indulge in this Valentine's Day.
Looking for an appropriate gift for your significant other for a day meant for the two of you can be difficult. Fortunately, Peter & Paul's Gifts offers a versatile collection of gourmet gift baskets that offer a variety of options you can choose from. So, make this day memorable one with our gift sets, explicitly designed to impress. It's also a great way for you to shower love when you can't give it to them in person. Our gifts can be delivered to your loved one's doorstep and on time so they know you put in great effort into your gift.