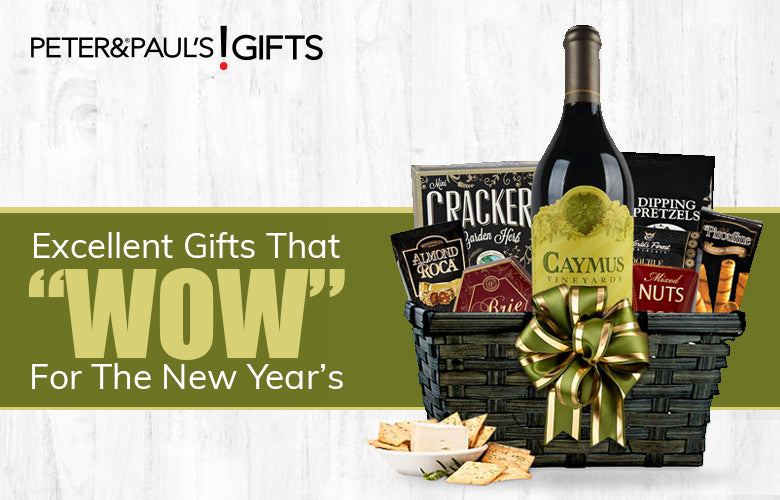 Excellent Gifts That "WOW" for the New Year's
Gourmet gift baskets from Peter & Paul's Gifts can ensure you celebrate New Year's in style. No matter the type of celebration you have in mind, our products are designed to fit any occasion brilliantly. Our gifts are packed with food you can share with your entire party. Your guests and recipients will not get enough of the cheese, chocolate, cookies and other items in the basket. The savoury and sweet snacks will ensure that you, your guests and your recipients enjoy the end of one year and the beginning of another. Read further and celebrate the New Year in style with gourmet gift baskets.
1. Just Rosie Regular
This luxurious gift box features items like a caramelized onion and garlic chutney, a selection of premium fruit, seed and nut toast, and brie cheese along with other mouth-watering items handpicked to wow a crowd.
The Veuve Cliquot Yellow Label Brut Champagne 375 ml is a delightful champagne that unites two contrasting factors, silkiness and strength. Its consistent power to please makes it ideal to be enjoyed with meals. The King Leo Chocolate Mint Puffs are bite-sized mints with a melt-in-the-mouth quality. It is made using pure peppermint oil and loaded with cocoa powder. Mrs. Bridges Caramelized Onion & Garlic Chutney has strong flavours and goes perfectly atop grilled aubergines. The Fine Cheese Co. Date, Hazelnut & Pumpkin Seed Toast is light, thin and crisp. It is made using fruit, seeds, and nuts, making it a healthy option to satisfy any snacking craving.
2. Bold and Beautiful
This ornate metal bucket is packed with gourmet foods that are equally as audacious and appetizing as its design. From sweet treats to savoury snacks, this gourmet gift basket is a great present to help you stand out in a crowd.
The Fruit & Mixed Nuts are a balanced mixture of assorted dried fruits and nuts that complement each other, creating a sweet and salty snack. The Tishbi Onion Cabernet Preserves contains slow-cooked caramelized onions mixed with a smooth cabernet sauvignon. The Almond Roca Butter Crunch Toffee with Cashews are great for sharing. They're each wrapped individually and contain an abundance of scrumptious toffee mixed with peanuts and covered in caramel. The Guylian Belgian Chocolate Milk Truffles are made using the finest Belgian milk chocolate, filled with smooth truffle. The Van Den Berg Cinnamon Sugar Fingers are traditional biscuits from The Netherlands. The lightly dusted sticks are a delight for anyone with a cinnamon craving.
3. Mixed Metals
This crosshatched bucket is filled with a range of handpicked items perfect for hosting a gourmet get-together. The bucket can also be filled with ice and used as a bottle chiller, providing an added touch of flair to your evening.
The Griffs Coffee Toffee is rich coffee flavoured toffees with slices of pecan creating a delightful treat which is coated with rich and smooth dark chocolate. Ma's Kitchen Bark are handcrafted nutty butterscotch bar made using whole ingredients. The East Shore Seasoned Pretzels are made using the original East Shore recipe seasoned with handpicked spices and herbs. These snacks add a wonderful burst of flavour to any dip it's consumed with. Jody's Artisinal Kettle Corn provides an old-fashioned combination of sweet and salty flavours that can bring a smile on anyone's face.
4. Chillin' Deluxe
This basket is perfect for those looking to throw a lavish event with gourmet items from all around the world. Featuring many handpicked items, this basket can make any host the talk of the evening.
The naturally Smoked Salmon is an elegant and simple item that pairs perfectly with fresh crackers. The Gardiners Belgian Dark Chocolate Fudge is made using a velvety dark Belgian Chocolate and Hebridean Sea Salt. The Van Den Berg All Butter Sugar Cookies are baked in a traditional knot shape and have a flaky texture. The Moet & Chandon Ice Imperial Champagne is the first champagne created to be enjoyed over a serving of ice. The powerful aroma and intense fruity bouquet of raspberry, guava, nectarine, and mango make it a favourite enjoyed by everyone. The basket also contains printed napkins which are a great accessory to have during any party.
5. Hexagon Dreams
This metal dish has a unique geometric shape, full of snacks and treats handpicked to stand out. Its exceptional shape makes it a great centrepiece for any event.
The Fine Cheese Co. Walnut, Honey & Olive Oil Crackers are the perfect accompaniment for any type of cheese with a subtle taste so as not to overpower the flavours of the cheese. The basket also contains lightly salted Pistachios, providing a fun snack with numerous health benefits. The Cartwright & Butler Stem Ginger Biscuits are a classic biscuit made using both ground and stem ginger to add some spice to the dough. It's baked to get a light and crisp texture that that goes well with tea. The Regina Cappucino Truffles are delicate Portuguese truffles with a rich cappuccino flavour.
When choosing a gourmet gift basket for a loved one for the New Years, you help set the tone for a prosperous and happy year ahead. Elegantly packed, our products are sure to impress your loved ones. Our attractive and high-quality gifts are designed to surpass your recipient's highest expectations. Browse through our website and discover the perfect gourmet gift basket for your loved ones and we can take care of the rest for you.