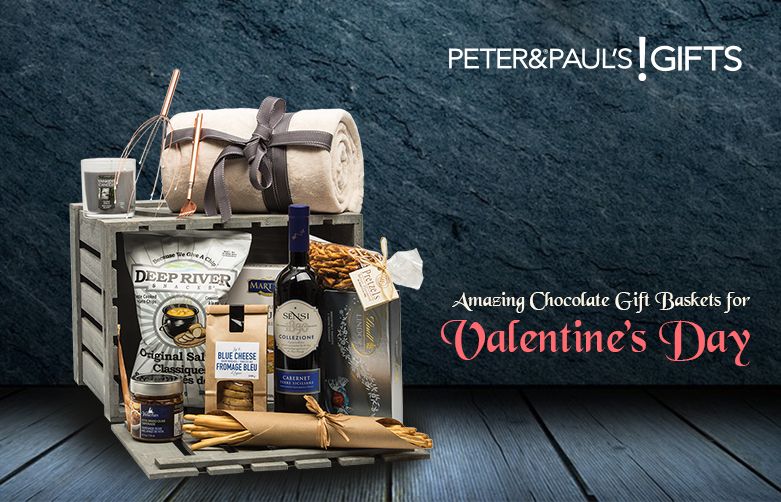 Amazing Chocolate Gift Baskets for Valentine's Day
There isn't a more romantic holiday than Valentine's Day. Grand gestures rule the day and what a better way to profess your love to your significant other than with a chocolate gift basket from Peter & Paul's Gifts. We can help you express yourself with unapologetic sentimentality through our wide selection of carefully curated gifts. You can choose from a variety of exciting combinations containing sweet treats and salty snacks that complement the chocolates included in the gift baskets perfectly. Keep reading and find out what our products have to offer.
Sweet as Tiffany
This gift basket has a signature Tiffany blue colour and is brimming with some of the most popular sweet treats that can appeal to any palette. 
The Excelcium Praline Assorted Chocolate Box contains a mixture of chocolate truffles with praline fillings. The Godiva Salted Caramel & Milk Chocolate Bar is made using sophisticated milk chocolate with caramelized and buttery pieces of toffee with a touch of salt to create an interesting mix of flavours. The Cookie it Up Shortbread Bites contain a delicious blend of milk chocolate with rich cocoa and white chocolate chips. Jody's Peanut Butter Artisanal Popcorn is a delectably sweet and salty mix of flavours mixed with the distinctive smooth taste of peanut butter. The J&M Holiday Spice Cookies feature an authentic blend of chai, cinnamon, ginger, and nutmeg, making them compellingly enjoyable.
Serenity
This gift basket is designed specially to promote relaxation and is full of necessary items needed for a cozy night in. The blanket included in the basket can be embroidered for a personalized touch.
The Lindt Lindor Assorted Box of Chocolates includes assorted truffles of milk chocolate with a smooth centre. There is a plush and cozy Blanket you can use to relax and unwind. The stainless-steel Head Massager can help relieve tension by softly massaging the acupressure points. The Back Massager is specially designed to get to hard to reach places and can relax the muscles almost instantly. There is a Yankee Candle with a soft and soothing fragrance that can set the mood for a romantic night. The Martelli Biscotti are classic almond biscotti that can be accompanied by your favourite sweet wine, tea or coffee. The crunchy and lightly salted Snack Tales Butter Pretzels have a smooth texture that's an old-time favourite, making it a staple snacking food.
Midnight Snacks 
This basket has the perfect balance of salty and sweet flavours, making it the ultimate snack to be shared and enjoyed.
The Excelcium 8 Mini Chocolate Pack contains mini chocolate treats made with smooth and rich Belgian chocolate. The Cherrington Coconut Milk Chocolate Truffles are made using a traditional Belgian recipe, providing milk chocolate pieces infused in coconut. The J&M Chocolate Chip Cookies are a delightful variation of rich chocolates that can be enjoyed with milk. The Neal Brothers Sweet & Smoked BBQ Chips are generously sprinkled with home-style barbeque sauce. Made using simple ingredients such as sea salt, tomatoes, garlic, onion and spices that provide a bold flavour to these chips. The Cupido Tiramisu Dessert Cup has a rich and delicate tiramisu filling. The Cavendish & Harvey Wild Berry Candies contain a mix of berries such as blackberries, raspberries, and blueberries that are hard to resist. They're made using real fruit juice, dusted openhandedly with icing sugar and packed in a first-class gold tin to keep them fresh. There's a batch of hand-made Boutique Peanut Brittle with a crisp texture and loaded with an assortment of nuts.
Treat Tower
This collection contains three black and gold boxes which are full of mouth-watering treats that make for a brilliant surprise. 
30 Pieces of Truffles contain smooth chocolate truffles coated in fine cocoa powder providing an exquisite taste. Mary MacLeod Chocolate Chunk Cookies are handmade cookies made using whole ingredients and containing a creamy filling. The Collection 82 Smore's Mix Popcorn is firstly dipped in a generous coating of caramel and drizzled with velvety white and dark chocolate. The Chocolate Covered Peanuts are traditional nuts covered in tempting milk chocolate. The Snowball Mints are great to be had after meals and provide a freshness like nothing else. The Collection 82 Cookies & Cream Caramel Corn Popcorn is also dipped in caramel, drizzled with dark chocolate and finished off with Oreo cookie crumbles.
Hexagon Dream 
This gift basket has a unique geometric shape which is packed with gourmet items and can be used as a centrepiece once the snacks and treats are gone. 
Regina Cappucino Truffles are delectable Portuguese truffles with a delicately rich texture. A rich cappuccino flavour is mixed with the chocolate which is flaked with a white chocolate crust. Ma's Kitchen Bark has a recipe which tastes like authentic grandma's handcrafted butterscotch nuts bar. It's made using whole ingredients and an all-time favourite for all ages. The Griff's Coffee Toffee has a premium coffee flavour and includes slices of pecan, creating a lovely treat which is coated with dark chocolate. The Dear Crete Organic Olive Oil & Sesame Seed Cookies contain beneficial properties of Cretan olive oil and are rich in ingredients that can contribute to the body's well being and overall health.
Treasure Chest Large
This is a picturesque, dark wooden chest full of pleasing products ranging from savoury to sweet. Definitely a chest worth opening!
The Regina Chocolate Truffle Box contains decadent chocolate truffles with a layer of flaked milk chocolate. The snack Tales Chocolate Pretzels come in a beautiful box which is jam-packed with lightly salted pretzels that are dipped in milk chocolate. The gift basket contains Mellianum Montepulciano D'Abruzzo Red Wine with a ruby red colour and strong flavours of raisin, baking spices, raspberries and layers of black fruit. The refreshing acidity and ripe tannin make this a brilliant wine that can be paired with any charcuterie board. Also in the basket is the Mellianum Trebbiano White Wine which has a neutral aroma and a light body. The Saxon Chocolate Enrobed Almonds are whole almonds that are enrobed in dark Belgian chocolate and coated in a fine dusting of cocoa powder.
Great Eats Large
This rustic wooden slot crate is full of gourmet treats, such as dried fig and almond fruit cake and premium popcorns, to satisfy any snack craving.
The Chocolate Covered Peanuts in Tube has an irresistible layer of milk chocolate coating traditional peanuts. The Real Treat Pantry Chocolate Macaroons are handmade using fine Italian dark chocolate and packed with shredded coconut. The Duo Oublies Chocolate Dipped Crispy Biscuits are thin butter biscuits, wisely dipped in rich Belgian chocolate. The Michael & Adam's Dark Chocolate Malt Balls are made with dark chocolate and have a creamy centre.
Our chocolate gift baskets are presents that are perfectly suited for Valentine's Day celebration with your partner. You can choose from a variety of options that can make this special day even more sweet and special. Each basket is full of treats that you can enjoy for a long time. Your significant other will truly appreciate the grandiose gesture and feel deep gratitude for you being a part of their life. So, head on over to our online store and find the perfect Valentine gift basket for your special someone.