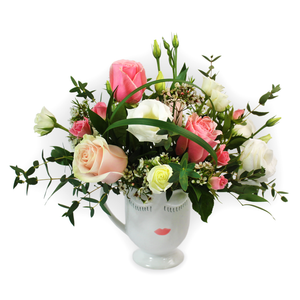 Beyond expectations
For an affordable price, the flowers were fresh and the gift basket was beautifully put together. Will definitely recommend you to my family and friends.
Delightful!
Delightful, especially for the gal who loves to take
selfies. The vase is charming and the floral arrangement is lush and befitting the true Selfie! My selfie friend loved it!!
selfie smile
Selfie smile arrangement was delivered on time and was well received. Although it was not as pictured, arriving in a pink vase with pale pink and 2 shades of purple roses, in my opinion the deep purple roses were an upgrade!
Love this so much, I've order multiple times
I've sent this to friends and co-workers multiple times. It's so pretty and gives a feminine touch to any room. It made for a perfect women's day pick me up gift!
Exactly as shown
Thank you. This was perfect!